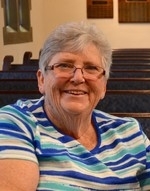 Jo Allen Cusic Mattingly died on June 20, 2019 in Leonardtown, MD. Born on September 23, 1947 in Leonardtown, MD. She was the daughter of the late Jimmy & Phiney Cusic of Hollywood, MD. She is survived by her son Timmy. She is also survived by her siblings Larry Cusic (Marcia) of Omaha, NB, Jane Heir (Mickey) of Vermont, Kevin Cusic (Charlene) of Hollywood, MD. Deceased siblings are sister Stephanie (Floyd) Abell and brother Andy Cusic.

She is survived by her nieces, nephews, and great nephews who she just loved dearly. She had special friends, especially Pattie Joy who was her sidekick. She had relatives that she always had good times with. Her favorite saying was Dear God, Put you hand on the Shoulder and one over my mouth.
Jo Allen was known to all as Momma Jo, which her nephew Christopher named her. Sometimes she often wondered if anyone really knew her name. In 1983, she helped form the Hollywood Rescue Squad Auxiliary which she was a member of for 35 years. The Aux. became part of her adopted family and she had so much respect for the Volunteers at the Rescue Squad.

She was employed by C&C Plumbing & Septic, in Hollywood, Maryland for 23 Years, which was started by her parents and owned by her brother, Kevin. She retired on December 31, 2016. Reading, gambling, and putting together flower arrangements were her joy! Her favorite places to go were Ocean City, Vermont, and Nebraska where she would always threaten to move in with her brother Larry.

The family will receive friends on Tuesday, June 25, 2019 from 12:00 Noon to 1:00 PM in the Mattingley-Gardiner Funeral Home, Leonardtown, MD. A Funeral Service will follow at 1:00 PM in the Funeral Home Chapel with Father Ray Schmidt officiating. A Graveside Service will be held on Thursday, June 27, 2019 at 9:00 AM in St. John's Catholic Cemetery Hollywood, MD. Serving as pallbearers will be Timmy Mattingly, Kevin Cusic, Larry Cusic, Christopher Cusic, Jamie Buzzell and Philip Cusic. Contributions may be made to the Hollywood Vol. Rescue Squad P.O. Box 79 Hollywood, MD and Hospice of St. Mary's P.O. Box 625 Leonardtown, MD.