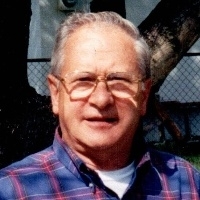 Carl Griffin Bell, son of the late Armistead Nash and the late Pearl (Small) Bell of Hughesville, Maryland passed away at the Hospice House of Charles County on June 18, 2019. Born on September 16, 1934 he served in the Army in the Korean War and later worked for the Government Printing Office as a Supervisor, retiring in 1989.

Carl and his beloved wife, Virginia shared 58 joyful years of marriage. Together they raised their three sons, Steven Bell (Kim), Timothy Bell (Sharon) and Kevin Bell and are loving grandparents to 5 grandchildren, Erika Bell, Diana Bell, David Harrington, Ashley Bell and Christina Bell and 2 great grandchildren. Also surviving Carl are his brother, David Bell and sister, Eloise Turner and many extended family and friends. He was preceded in death by his parents and his siblings, William Bell, Joseph Bell, Cecil Bell, Roger Bell, R.W. Bell, G. Clyde Bell, Blanche Williams and Lina Bowling.

Carl always put his family first. He had a wonderful sense of humor, which his wife enjoyed and was passed along to his sons. Carl also enjoyed gardening, woodworking, mechanics, hunting and fishing. He will be missed by many but none more than his family.

Carl's Life Celebration Visitation will be at Brinsfield Funeral Home in Charlotte Hall, MD on June 23, 2019 from 2:00 p.m. to 5:00 p.m. with Prayers at 4:00 p.m. Interment with Military honors will be on Tuesday, July 2, 2019 at 10:15 a.m. at Maryland Veterans Cemetery, 11301 Crain Highway, Cheltenham, MD 20623. In lieu of flowers, donations may be made to the Alzheimer's Association, 1850 York Road, Ste. D, Timonium, MD 21093. Arrangements by the Brinsfield Funeral Home, P.A., Charlotte Hall, MD.