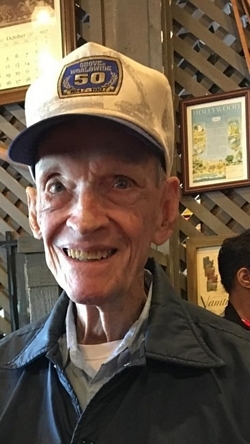 Bobby Hogge went to be with the Lord on Tuesday June 18, 2019 with his loving family by his side. Bobby was born on May 4, 1936 in Middlesex, Virginia. He was the son of the late James Thomas Hogge and Elizabeth Chowning Stiff. In addition to his parents, he was preceded in death by his loving wife; Joyce Ann Stone; Sister Mary, brothers Douglas, Gordon, Norman Titus, and Edward.

Those left to cherish his memory, include Sister Marie Catterton (Buddy) Virginia; Daughters: Brenda Wise (Mike) Bushwood, Maryland; Joyce Annette Boucher (Randy) Bowie, Maryland; Son Robert Hogge of Milton, Florida; Grandchildren: Tammy Cook (Robert); Ray Conklin ; Michael Boucher (Jeannie); Jennifer Morgan (Richard); Robert Hogge (Krystal); James Hogge (Ashley); Jeannie Lytle (Jesse); Sarah Hogge and Jonathan Hogge, 9 great grandchildren.

Bobby was a man of many talents. He loved the great outdoors, gardening, boating and fishing. He was always active. He was a hardworking, devoted family man and dedicated to his work. As a young man Bobby worked on a tugboat and also managed a service station. His lifelong career and passion was running cranes as an Operating Engineer. When he retired, he put his hands to work being creative with woodworking and gardening. He was deeply loved, admired and respected and will be missed by his family and friends.

The honor of serving the Hogge family has been given to Huntt Funeral Home in Waldorf, Maryland. Services will be held on Saturday, June 22, 2019 with viewing at 9:00 am and service at 10:00 am. Officiating Pastor: Rick Dove. We would like to thank the University of Maryland Surgical Intensive Care Doctors and Nurses for the excellent care and compassion they showed our Father.