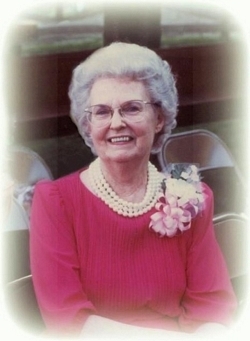 Erma Elizabeth Joy Thompson, 90, of Hollywood, MD passed away on June 13, 2019 at MedStar St. Mary's Hospital, Leonardtown, MD with her family by her side. Erma Elizabeth Joy Thompson was born on July 11th, 1928 in Baltimore, Maryland to the late Chester Joy and Virginia Denton Joy. She lived on Edmondson Avenue with her parents and her younger brother Marvin. In 1942, when Erma was 14 years old, her family moved to Hollywood, Maryland.

Her first job was a clerk at Preston Insley's store in Hollywood. Later on she worked on the Naval Base as a payroll clerk. She left the job on the base in 1962 to become a stay at home wife and mother. She babysat in the 1970's. Erma played the piano beautifully and was self-taught. She had a lovely alto voice. She took care of her father until the day he died of Parkinson's disease. She also took care of her mother until her father's death at which time her mother went to live with her brother Marvin in North Carolina. She took care of her son David and her husband John B. for long as she was able to.

Erma married John Briscoe Thompson on March 28th, 1948 which happened to be Easter Sunday that year. She had no greater joy than her family and her home. She loved to take care of her home and have a large garden and can food for the winter. She even enjoyed washing dishes at the kitchen sink where she could look out of the window over the beautiful rolling hills. She loved working outside cutting grass, working the garden and assisting John B. with his many projects. Erma had so many friends. To know Erma was to love Erma.

Erma is survived by her daughters Brenda Thompson Bond of Towson, MD and Virginia Lacey of Avenue, MD and her brother Marvin Chester Joy of Raleigh, N.C. She has two grandchildren Brody Bond (Lisa) and Vicki Cantrell (Doug) and six great-grandchildren: Casey and Gillian Bacon, and Beckett, Thatcher, Jane and Francie Joy Bond. She was preceded in death by her parents Chester H. Joy and Virginia D. Joy, her son John David Thompson and her husband John Briscoe Thompson.

Family will receive friends on Thursday, June 20, 2019 from 9:00 a.m. to 11:00 a.m., with a Funeral Service presided by Pastor Katie Paul at 11:00 a.m. at Brinsfield Funeral Home, P.A., at 22955 Hollywood Road, Leonardtown, MD 20650. Interment will follow at Joy Chapel Cemetery off of Joy Chapel Road in Hollywood, MD 20636. Pallbearers will be Larry Joy, Donnie Lacey, Brody Bond, Wade Thompson, Jeff Kirby and Tom Wilson. Honorary pallbearers will be Timmy Thompson, Danny Sweeney, Don Ervin, Jerry Thompson and Gary Parsons Donations can be made to Hollywood United Methodist Church, 24422 Mervell Dean Road, Hollywood, MD 20636 or the Hollywood Rescue Squad, 23469 Rescue Ln., Hollywood, MD 20636. Arrangements by the Brinsfield Funeral Home, P.A.