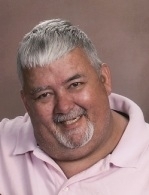 Lairy Junior Carter, Jr. "Lumpy", Lairy was born on February 21, 1972. He passed away after a long battle with Colon Cancer. He passed away on June 13, 2019 in Ocala, Florida. He is survived by his wife Rachael Carter, son Charles Carter and daughter Cynthia Carter. He is also survived by his father Lairy Junior Carter, Sr. and his mother Deborah Evans Carter. Two siblings Elvis Aaron Carter and Dustin Lee Carter. He is also survived by his nephews Landon, Matthew and Michael Logan Carter. He also has a niece Taylor Garcia and family.

He liked hunting, camping and fishing and watching outdoor reality shows. He liked cooking and canning, and stuffing hams. His favorite food was scrapple, Maryland crabs, and lasagna. Indoors he liked to watch forensic file shows and crime dramas. He enjoyed spending time with his daughter for family time. He would laugh when his dad would ask for tongue sugars, when they were babies.

The family will receive friends on Tuesday, June 18, 2019 from 5:00 Pm to 8:00 PM with prayers recited at 7:00 PM in the Mattingley-Gardiner Funeral Home Leonardtown, MD, where a Funeral Service will be held on Wednesday, June 19, 2019 at 10:00 AM in the Funeral Home Chapel with Bishop William McClean officiating. Interment will follow in Queen of Peace Catholic Cemetery, Helen, MD. Arrangements provided by the Mattingley-Gardiner Funeral Home, P.A. Leonardtown, MD.