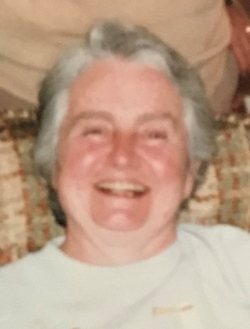 Elizabeth (Betty) Powers Burgess, 92, died peacefully Saturday, June 15, 2019. Betty was born in Washington, DC to the late Irene and Col. John Powers on December 8, 1926. Betty is survived by her husband Chet, who she met at the University of Maryland soon after WWII and married on September 16, 1950. They lived in Silver Spring for several years and, as IBM expanded, moved to Wappingers Falls, NY where they raised Peggy (Mark), Sue (deceased in 1993), Tom (Jan), and Kathy (Bob). In retirement, Betty and Chet enjoyed living in Neeld Estate, MD; regular visits with grandchildren Will, Jenn, Richie, and Ian; building their timber frame home; Emmanuel Church, traveling adventures, and sailing on the beautiful Chesapeake.

Betty was always the mom that all the other moms turned to for help or advice when there was a crisis. She was calm and quick-minded with a silly sense of humor and bright, welcoming smile. Betty was an active volunteer, serving in many capacities including NYS Master Gardener, Church School Superintendent, and Food Pantry worker. In her later years, she especially enjoyed the job of delivering food to a local boys' home when the boys would come out the front door to greet and thank her.

Relatives and friends are invited to attend our celebration of Betty's life on Thursday, June 20, 2019 at 11:30 a.m. at the Asbury Solomons Auditorium, 11100 Asbury Circle, Solomons, MD. In lieu of flowers, memorial contributions may be made to Calvert Churches Community Food Pantry, Inc., P.O. Box 1334, Huntingtown, MD 20639-1334 or Emmanuel United Methodist Church, 1250 Emmanuel Church Road, Huntingtown, MD 20639. Arrangements by Rausch Funeral Home.