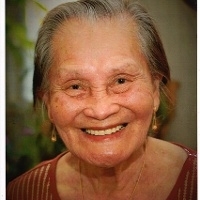 Rosalina Biñas Buencamino, 91, of Lexington Park, MD passed away on June 8, 2019 at Chesapeake Shores Nursing Center in Lexington Park, MD. Rosalina was born October 20, 1927 in the Philippines, to the late Nicanor Biñas and Fortunata Penuela. She was the wife of the late Perfecto Buencamino whom she married in 1946 while living in the Philippines.

She enjoyed being a wife and a homemaker for her family. Some hobbies that she enjoyed were knitting and crocheting beautiful things. While spending time with friends and family she enjoyed cooking, singing and playing solitaire for fun. Rosalina was a very religious lady. Most of all her greatest love was babysitting her countless number of grandchildren and great-grandchildren and just spending time with her family.

She is survived by her ten children Rebecca Ledford, Romulo Buencamino, Roseminda Daguro, Rolinda Mesowski, Rhodora Buencamino, Joselle Buencamino, Josephine Barros, Rudyard Buencamino, Rey Buencamino and Ricky Buencamino, along with five sisters and five brothers. She has a numerous number of grandchildren, great-grandchildren, nieces and nephews who all loved her.

Family will receive friends on Saturday, June 15, 2019 from 9:00 a.m. - 10:00 a.m., with a Mass of Catholic Burial celebrated by Father John Nguyen at 10:00 a.m., at Our Lady's Catholic Church, 41410 Medley's Neck Road, Leonardtown, MD 20650. Interment will follow at Immaculate Heart of Mary Catholic Church Cemetery at 22375 Three Notch Road, Lexington Park, MD 20653. Arrangements by the Brinsfield Funeral Home, P.A. in Leonardtown, MD.