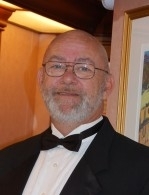 Michael Alan Cook, 66, of Hollywood, MD passed away June 06, 2019 after a long battle with kidney disease. He was born September 25, 1952 in Riverside, California to the late Isa Nielson Smith of Denmark and Marcelino Cook of the Philippines. Mike enjoyed photography, restoring hot rods, woodworking, and spending time with family.

Mike spent the majority of his youth travelling as his father was in the Air Force. After graduating from high school, Mike attended community college for his lifelong passion of photography. In October of 1971, Mike then enlisted in the Air Force where he spent 2 years in Vietnam as a Military Police Officer. In 1977, Mike began his Civil Service career as a Federal Police Officer in Ft. Belvoir, VA and reached the rank of Captain. Michael retired in 2008 after 31 years of federal service.

Mike is survived by his wife, Joanne Redman Cook of Hollywood, MD. In addition to his loving wife, Mike is also survived by his sons Robert Fini Cook and Alan Paul Cook, both of Frederick, MD; step-sons Dale Allen Redman and Samuel Charles Wescott, both of Hollywood, MD; sisters Cathryn Cook-Magruder of San Diego, CA and Debra Small of Redwood City, CA; and several aunts and uncles, and nieces and nephews in Maryland, California, and Denmark. In addition to his mother and father, Mike is preceded in death by his mother in law Cora Frances Norris Redman of Lusby MD, and step-son Kyle Lee Akers Redman of Hollywood, MD.

Family will receive friends for Mike's prayer service on Friday, June 10, 2019 from 5:00 to 6:00 p.m., with a Memorial Service celebrated by Deacon Paul Bielewicz at 6:00PM., at Mattingly-Gardiner Funeral Home, 41590 Fenwick Street Leonardtown, Maryland 20650. Interment will be private. In lieu of flowers, the family is asking for donations to be made to Hospice of St. Mary's County P.O.Box 625 Leonardtown, MD 20650.