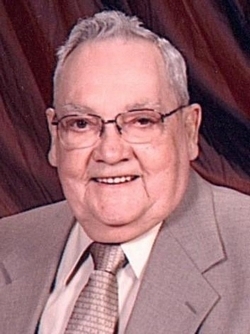 James Rohland Hayden Sr., 86, of Bushwood, MD departed this life on June 2, 2019, surrounded by his loving family. Rholand was born June 9, 1932 in Bushwood, Maryland. He was the son of the late George Lawrence Hayden, Sr. and Agnes Jeanette (Oliver) Hayden. Along with his parents, Rholand was preceded in death by his siblings, Eldridge Hayden, Genevieve Thompson, Lawrence "Boy" Hayden, Perry Hayden; and his great grandson, Jacob Hayden Lux.

Rholand was a life-long resident of St. Mary's County. He was raised on his family farm where hard work was instilled and family stuck together. Rholand met and fell in love with his best friend, and forever love, Mary Ann Hill. They were married on September 19, 1953 in Bushwood, Maryland. Together they celebrated over sixty-five (65) wonderful years as husband and wife.

Rholand was a caring husband, father, pop pop and great-pop pop who loved his family above all else. He taught his family to support and care for each other always. He was a man of God and praised the Lord.

Rholand spent a hard-working life caring and supporting his family. While working full-time as a farmer (growing tobacco, corn and soy bean), he worked twenty-seven (27) years as a St. Mary's County 911 operator, protecting all residents in the county. He was known for his large vegetable gardens where family, friends and neighbors enjoyed the fresh produce.

Protecting and serving his local community was very important to Rholand as well. He dedicated twenty-six (26) years volunteering with the Seventh District Volunteer Fire Department and was one of the founding members of the Seventh District Volunteer Rescue Squad.

Rholand's love for his family will be his greatest legacy. The honor and strength he brought can never be replaced, but will be emulated through the actions of his family. He was a man of great character, and left his family with many memories. Rholand will be missed by many, but none as much as his family.

Along with his wife Mary Ann, he is survived by his four children, James "J.R." Rholand Hayden, Jr., Waldorf, MD, George Allan Hayden, Sr. (Nancy), of Mechanicsville, MD, Deborah Hayden Richardt (Noel) of Lusby, MD, and Mary Bridget Scott (Ron) of Port Republic, MD; seven (7) grandchildren, Mike Hayden (Angela), Heather Lux (Mike), Allan Hayden (Jess), Christopher Hayden, Kara Higgs (Amanda), Candace Itliong (Glenn) and Cole Scott; and eight great-grandchildren (MJ, Tatum, Lilly, Sadie, Hunter, Karlee, Bodie and Jackson). Rholand is also survived by his sister, Merle Colton and brother-in-law, Joe Hill, both from Leonardtown, MD.

Family will receive friends on Sunday, June 9, 2019 from 2:00 p.m. to 5:00 p.m. for a Life Celebration Visitation, with prayers being read by Father Sam Plummer at 4:00 p.m. at Sacred Heart Catholic Church, 23080 Maddox Road, Bushwood, MD 20618. A funeral service will be held on Monday, June 10, 2019 at 11:00 a.m. at Sacred Heart Catholic Church, 23080 Maddox Road, Bushwood, MD 20618. Interment will follow immediately in the church cemetery.

In lieu of flowers, his family requests donations in his memory to St. Mary's Hospice House; Seventh District Volunteer Fire Department or Seventh District Volunteer Rescue Squad. Arrangements by the Brinsfield Funeral Home & Crematory, P.A., Charlotte Hall, MD.