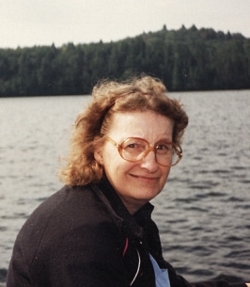 Nancy Irene Newell Quade, 86, of Oraville, MD died May 22nd, 2019 at her residence. Born December 31, 1932 in Lake Forest, Illinois she was the daughter of Blake Sylvester Newell and Frances Flora Marshall Newell. As a small child, her family relocated to Oraville, MD where they owned and operated the General Store and Post Office. Nancy graduated from Margaret Brent High School at age 16 in 1949. Nancy married the love of her life Martin Allen Quade on August 18, 1951 at the Hollywood Methodist Church in Hollywood, Maryland.

Nancy was a devoted wife, mother and homemaker. She was the phone receptionist for Martin Quade's carburetor rebuild business which was operated out of their home behind the Old Oraville Post Office. Nancy loved to work cross word puzzles. She enjoyed listening to blue grass or country music -- local or TV. She enjoyed the annual family outing when the leaves were changing in October each year on the drive to and from and along Skyline Drive, Virginia.

Predeceased by her parents Blake and Frances Newell and husband, Martin Allen Quade, she is survived by her eight children who all reside in Southern Maryland: Barbara Morgan (Wayne) of Oakville, Debbie Russell (Donald) of Oakville, Michael Allen Quade (Pam) of Prince Frederick, Jeffrey Guy Quade of Oraville, Wayne Anthony "Tony" Quade of Oraville, Laurie Askins (Joe) of Hollywood, Donna Bellflower of Mechanicsville and Gregory Martin Quade (Pam) also of Mechanicsville. Nancy is also survived by her youngest sister Nora June Newell of Paul Smiths N.Y. Her predeceased sisters were Joyce Newell Burch of Oakville, Joan Newell Long of Sandgates and Mae Gail Newell Martin of Upstate N.Y.; She is survived by 16 Grandchildren and 21 Great Grandchildren. Predeceased Grandchildren were Tony Kovacs and Eric Askins.

The family will receive friends for Nancy's Life Celebration and Prayer Service on Saturday, May 25th. Visitation is from 0900 to 1000 AM with the Funeral Service at 1000 AM at Mattingley Gardiner Funeral Home. Interment will immediately follow the 1000 AM Funeral Service in the Charles Memorial Gardens. Pall Bearers are Joseph Letourneau, Paul Cronin, Ricky Russell, Lewis Russell, Travis Askins and Ricky Russell, Jr. Contributions may be made to Hospice of St. Mary's P.O. Box 625 Leonardtown, MD 20650.