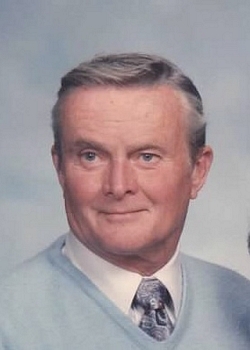 Earle Wilson "Sonny" Young, Jr., 84, of Solomons, MD passed away on May 10, 2019 at Asbury-Solomons Health Care Center. Born September 5, 1934 in Washington, DC he was the son of the late Earle Wilson Young, Sr. and Florence Agnes (Stanford) Young. Sonny graduated from Gonzaga College High School in 1951. He graduated from George Washington University with a Bachelors of Science in Mechanical Engineering in 1960 and he graduated from Catholic University of America with a Masters of Science in Engineering in 1970.

Sonny married Joan Regina Flaherty on February 12, 1955 in Annapolis, MD. He was an Engineer for NASA Goddard Space Flight Center in Greenbelt, MD for thirty five years, retiring in 1990. He moved to Calvert County in 2018 from Queen Anne's County. Sonny enjoyed golfing, fishing and woodworking and was a member of the Elks Club, the NRA and the Chesapeake Bay Environmental Center (CBEC).

Sonny is survived by his children, Deborah Anne Schanberger (Carl) of Tracys Landing, MD, Kelly Young Day (Patrick) of Lusby, MD, and Stephen Earle Young (Lisa) of Stevensville, MD; six grandchildren; two great-grandchildren; and sisters, Susan Dugan of Fort Myers, FL and Karen Dashiell (Michael) of Stuartstown, PA. He was preceded in death by his wife, Joan Young on October 15, 2016 and his daughter Stacey Lee Boyd. Arrangements by Rausch Funeral Home.