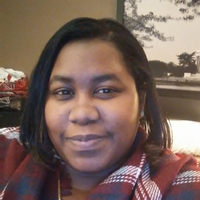 Ida Sharonda Hemsley of White Plains, Maryland was born November 8, 1980 to parents of Robin Ann and Ferdinand Hemsley. Ida was a beautiful quiet soul who did not talk much, but who always showed a huge smile that would lighten a room. Ida loved spending time with her family and friends. She was a graduate of La Plata High school, where she met the love of her life Deon Butler. In August 2003, Ida's heart grew even larger when she gave birth to her son Deonta Butler. Deonta brought Ida so much joy and as we all knew she was a very proud mother. Everyone who knew Ida knew she loved children; she loved them so much that she spent a life time caring for other people's children. She worked tirelessly in the childcare field straight out of high school until the very end. She worked at the Children's Center for Discovery in Waldorf, MD. On May 8, 2019, at the young age of 38, Ida closed her eyes for the last time and has moved on to be with her Lord and savior.

She is gone but will never be forgotten. Ida was preceded in death by her grandfather John Houston Penny Jr., her grandparents Peter Hemsley, and Dorothy Hilton. Ida is survived by her son Deonta Butler, parents Robin Ann Hemsley, Ferdinand Hemsley, her brother Robert Darnell Farmer, her foster sisters Ale Amare, Sheila Thompson, nephew Michael Young, niece Dajah Farmer, great niece Maliah Young, great nephew Michael Young Jr., (MJ), future niece-in-law Joana Sims, Grandmother Estelle E. Penny, her loving fiancé Deon Butler, godmother Sheila Washington, and a host of Aunts, Uncles, cousins and loving friends. HER LOVE HAD NO BOUNDARIES! HER MEMORY HAS NO LIMITS!!

Her Viewing will be, 10:00 am, until time of Service, 11:00 am, Tuesday, May 14, 2019 at Calvary Grace Assembly of God, 10774 Charles Street, La Plata, Maryland 20646. Arrangements by Thornton Funeral Home.