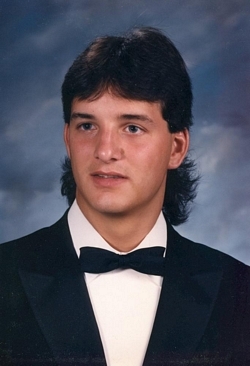 Robert Michael Clark, 48, was called to rest on Thursday, April 25, 2019, at 3:27 PM. Robert, affectionately known as "Bobby "or "BIP" by family and friends was born in Annapolis, Maryland, on February 24, 1971. He was raised in Huntingtown, Maryland by his parents, Constance and John Lawrence Clark, Jr, before settling in Chesapeake Beach, Maryland.

Robert graduated from Northern High School in 1989, where he played wide receiver for his high school football team, the Patriots. He also enjoyed BMX biking with his brother and friends. Robert was a Journeyman plumber, and was a member of the Plumbers Local Union 5 and Gasfitters, of Washington, D.C., since 1990. He was Project Manager for R and R Mechanical and was involved in many jobs including: D.C. Fire Emergency Medical Services; Dumbarton Oaks Research Library, in Georgetown; A.C.P.S Elementary School, in Alexandria, Virginia; United Health Medical Center, in Washington, D. C.; and most recently, at Lubber Run Community Center, in Virginia.

He is survived by his beloved mother, Connie Clark (nee Marsellas), brother John Lawrence Clark, III, maternal grandmother, Helen Marsellas, two paternal aunts, Patricia Horsmon (nee Clark), Barbara Rogers (nee Clark) and husband Donald, cousins, Jessica Lynn Kilby, Kelly Rogers-Elliott and husband Chris, Holly Rogers Briscoe and husband Parran, Dawn Rogers Morris; as well as numerous friends and colleagues of Local 5 and R and R Mechanical. Robert was preceded in death by his father, John Lawrence Clark, Jr., paternal grandparents, Eloise (nee Buckler) and John Lawrence Clark, Sr., and maternal grandfather, C. Herbert Marsellas.

Family and friends will be received on Wednesday, May 8, 2019, at Huntingtown United Methodist Church. Visitation is from 10:30 a.m. to 12 noon with a service to follow at 12:oo Noon. In lieu of flowers, monetary donations may be made to St. Jude's Children's Research Hospital or George Washington University Hospital. Arrangements by Rausch Funeral Home.