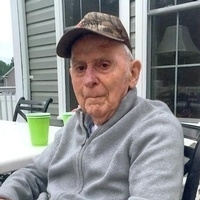 He was born May 29, 1930 in Ellamore, West Virginia. He was the son of the late George Wesley Harris and Geneva Grace (Goodwin) Harris. Junior proudly served his country in the United States Navy beginning on July 6, 1951. Junior met the love of his life, Wanda Marie Shreve in West Virginia. They married on February 15, 1955 and celebrated over 64 years together. The strong love and admiration they have for each other is shown in the kind and loving children they share, Randy and Rhonda.

Junior provided for his family working for the Federal Bureau of Investigation in the Fingerprint Division until his retirement in 1973. Most importantly, he enjoyed serving and being a part of the Family of God in churches in Forestville, MD, Florida and Hughesville, MD.

Junior enjoyed the simple life. He enjoyed working in the yard, maintaining a beautiful lawn and could spend hours mowing grass. For many years, he could be found mowing lawns for his Church, neighbors or anyone who was in need. He'd enjoyed hunting since he was young and taught his son and grandsons to hunt. He enjoyed quiet mornings overlooking the wooded acreage of his property; feeding and watching wildlife.

For several years, Junior and Wanda traveled to Florida to escape the cold winters. Junior loved nothing better than to be surrounded by the family. Everything began with two young people falling in love and now his journey home leaves his beloved wife and family surrounded by his strong legacy of strength and determination. He will be missed by many, but none as much as his family.

Along with his wife, Junior is survived by his children, Randy Leon Harris of Buckhannon, WV and Rhonda Sue Baden (Matthew Baden) of Hughesville, MD, four grandchildren, Amanda (Matt) VanHorn, Jared Harris, David (Kylie) Baden, and Lesley (Josh) Pertz and five great-grandsons, Joshua, Jacob, Caleb, Branson and Wesley. He is also survived by one brother, Larrel Harris (Jean) of Lebanon, OH and one sister, Shirley Dean (David) of Buckhannon, WV. Junior was proceeded in death by his parents and sister, Eva (Harris) Trusler.

Family will receive friends on Thursday, May 9, 2019 from 5:00 p.m. to 7:00 p.m. at Hughesville Baptist Church, 8505 Old Leonardtown Road, Hughesville, MD. A Funeral Service officiated by Pastor Derek Yelton will be held on Friday, May 10, 2019 at 11:00 a.m. also at Hughesville Baptist Church. Interment will follow at 12:45 p.m. at the Maryland Veterans Cemetery, 11301 Crain Highway, Cheltenham, MD 20623.

In lieu of flowers, memorial contributions may be made to the Hughesville Baptist Church-Growing for God campaign, 8505 Old Leonardtown Road, Hughesville, MD 20637. Arrangements by the Brinsfield Funeral Home & Crematory, P.A., Charlotte Hall, MD.