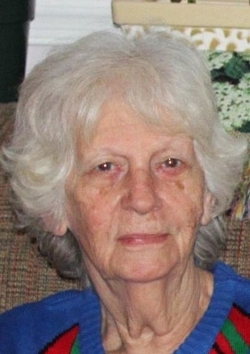 Hazel Crismond Warfield, 83, of Benedict, Maryland died at Calvert Memorial Hospital on April 22, 2019 surrounded by family and caregivers. She was born on Aquia Creek in Stafford County, Virginia in 1935. Hazel was one of 15 children born to John Randolph Crismond and Elsie Bost Crismond. She moved to Maryland and met her husband, Barnsley Warfield, in Benedict, Maryland.

Hazel loved nature and children. Every spring, she tended her gardens and preserved the bounty of them. She raised baby birds, bunnies, and a box turtle that her children brought home. She was a full time mother and homemaker her entire life. As a mother, her greatest challenge was caring for her disabled daughter for 59 yrs. She was a member of the Order of the Eastern Star, serving as Worthy Matron in that organization. She was active in her church, Old Fields Episcopal, through service on the vestry, singing in the choir, and working in the thrift shop. She enjoyed reading her Bible and listening to Irish music. She loved song birds and always had a feeder for them. Her favorite was hummingbirds. Her love of nature has been passed to all of her children.

Hazel is survived by her three daughters: Hazel Emori Warfield-Koegel (William Koegel), Barney L. O'Quinn (Larry O'Quinn), Elise W Zeigler (David Zeigler) and son, Joseph Barnsley Warfield (Jackie Wheeler). She leaves ten grandchildren: Kevin Warfield, Stephanie Carney, Joseph R. Warfield, Dawn Haddad, Jessica and Andrew Braun, Rebecca Caudill, Ashley and Lawrence Evans III and Perry Oquinn, and 8 great grandchildren.

The family will receive friends on Thursday evening, April 25, 2019 from 5:00 to 8:00 PM at Brinsfield Funeral Home in Charlotte Hall. A Memorial Service will held on Friday, April 26, 2019, at Brinsfield Funeral Home in Charlotte Hall at 10:00 AM with interment at Old Fields Episcopal Church directly following. Arrangements by the Brinsfield Funeral Home & Crematory, Charlotte Hall, MD.