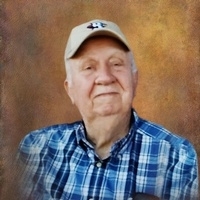 George Milton (Mickey) Langley, Jr. 95, of Mechanicsville, MD passed away on April 19, 2019 surrounded by his loving family. George was born on December 31, 1923 in Washington, DC to the late George Milton Langley Sr. and the late Elizabeth Denison Langley.

George served in the United States Navy during World War II. George loved to travel (camping), especially to attend spring training in Florida for baseball season. He had a love for golf and trains and loved going fishing. But his most memorable past time is spending time with family and friends.

In addition to his parents, George was preceded in death by his wife, Mae Magdalen Langley, his daughters, Lola Mae Hunter and Daisy Lucille Hills and his sisters Mary Anne Bott and Eleanor Delinski. He is survived by his daughter, Nancy Anne Cochrane; five grandchildren, six great grandchildren, and five great great grandchildren; his sister Bernice Langley, and longtime girlfriend Rose Marie Elliott of LaPlata, MD.

Family will receive friends on Wednesday, April 24, 2019 from 5:00-8:00PM at Brinsfield Funeral Home & Crematory, P.A., 30195 Three Notch Road, Charlotte Hall, MD 20622. A Funeral Service will be held in the Funeral Home Chapel on April 25, 2019 at 11:00 AM. Interment will be private. Arrangements by the Brinsfield Funeral Home & Crematory, P.A., Charlotte Hall, MD.