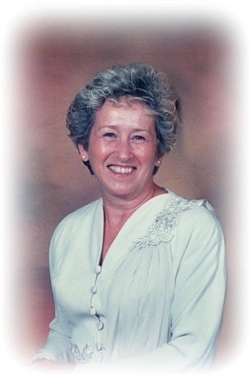 Corrine Elizabeth (Haugh) Peeling, 77, of the Mulberries on Breton Bay, Leonardtown, MD donned her angel wings and left this life for her journey to Heaven on Saturday, April 20, 2019. Corrine died peacefully at home with her daughters and husband by her side after a 10-year battle with Stage 4 Metastatic Breast Cancer.

Affectionately known as "Peanut", she spent her first 55 years in Hagerstown, MD where she graduated from North Hagerstown High School in the Class of 1960. She was a beautiful and vivacious teenager who excelled in sports on the school's Varsity Softball and Basketball teams. After graduation she went to work at Martins Food near the Valley Mall where she retired in 1998.

She was blessed with two daughters, Pamela Myers and Michele Brock, who she loved with all her heart. Over the years she became Memaw/Mammaw to 2 granddaughters (Lindsey Rambo and Stephanie Brock) and 2 grandsons (Josh Keyton and Ryan Miller) who gave her 6 great grandchildren and 1 step grandson that brought her countless special moments.

In 1998, she met the love of her life and "Sugar Daddy", Don Peeling. Despite being torn over leaving her loved ones and friends, she moved to Southern Maryland where she was further blessed with 3 stepchildren (Lynda, Barbie, and Gary), 8 step grandchildren, and 6 great grandchildren; and was welcomed into the Eagle Systems family. Her engaging smile, comical sense of humor, and energetic persona quickly endeared her to everyone she met. Corrine was a member of the St. Mary's Quilters and Quilters by the Bay where she was known to spend hours-on-end making beautiful quilts and afghans for her family, friends, and wounded service men.

She was a long-time member of the Hollywood United Methodist Church where she was loved by the congregation and enjoyed a deep and personal relationship with God. Corrine was well known as a courageous "Super Hero" by those undergoing cancer treatments and could often be found bringing encouragement to those having little hope. Her infectious laughter and hilarious kick-butt humor will forever be remembered by her friends at the Drayden Campgrounds and at Friday night dinners with her special self-proclaimed "A _ _" family.

Corrine's heart was bigger than life itself. She is now free of pain and resting in peace for eternity in the arms of the Lord. We are forever grateful and blessed that we were able to share in the life of this special woman whose memory will never be forgotten.

Corrine was preceded in death by her parents Pearl and Marshall (Butch) Haugh and Sister Donna Jackson. In addition to her daughters, grandchildren, great grandchildren, step grandchildren, and step great grandchildren, she is survived by her siblings Robert and Terry Haugh of Hagerstown, MD, Gary Haugh of Boonsboro, MD, and her younger sister Linda Blubaugh of Ocala, FL, as well as many nieces and nephews.

The family will receive friends on Wednesday, April 24, 2019 from 2:00 to 4:00 p.m. and 5:00 to 8:00 p.m. with a Prayer Service at 6:00 p.m., at Brinsfield Funeral Home, 22955 Hollywood Road, Leonardtown, MD 20650. Funeral services will be at 12:00 p.m. in the First Saints Community Church, St. Paul's Campus, 25550 Point Lookout Road, Leonardtown, MD. Interment will immediately follow at Joy Chapel Cemetery, 44345 Joy Chapel Road, Hollywood, MD 20636. Flowers can be sent to the Brinsfield Funeral Home, 22955 Hollywood Road, Leonardtown, MD 20650. In lieu of flowers, memorial donations may be made to Hospice of St. Mary's, P.O. Box 625, Leonardtown, MD 20650. Arrangements by the Brinsfield Funeral Home of Leonardtown, MD.