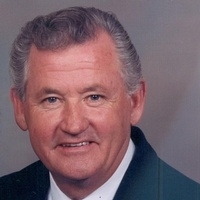 Allan Bruce Canter Sr., 82, of Charlotte Hall, MD departed this life on Monday, April 8, 2019, surrounded by his loving family. He was born December 2, 1936 in Hughesville, Maryland. He was the son of the late Hugh Mitchell Canter and Regina Inez (Willett) Canter. Allan married his forever love, Margaret Ann (Miller) Canter on August 4, 1956. Together they celebrated over 62 years of marriage and shared five children.

Al was an accomplished Licensed Master Plumber. He was a generous provider for his family and believed with God anything was possible. He worked during the day and spent his evenings and weekends as a licensed clergyman, performing marriages, offering counseling and visiting the sick.

Al lived a wonderful life with his family. In his youth, he was an avid baseball player and was on track to play professionally before a knee injury derailed his dreams of joining the major leagues. He loved to watch the Washington Redskins play, he was a big fan. He also enjoyed watching NASCAR with Margaret. Al was able to visit the Holy Land and travel the world with the church, including a trip to Greece and a mission to Haiti where he used his skills as a plumber to provide aid. Al enjoyed nature and liked to hunt and fish. Spending time outdoors. Nothing was as special to him as his children and grandchildren. Al will be missed by many, but by none as much as his family.

Along with this wife, Allan is survived by their children, Georgine Cox (James) of Charlotte Hall, MD, Denise Ann Canter (John Mattingly) of Park Hall, MD, Laurie Ann Canter (Billy Tucker) of King George, VA, and Kristi Ann Frischholz (Dennis) of Mechanicsville, MD, and Allan Bruce Canter, Jr. (Brenda) of Newburg, MD, six grandchildren, Dawn Marie Cox (Erik Kjonnerod) of Hawaii, Douglas Canter, Lindi Romine, April Sage, Dennis Frischholz, Molly Frischholz and five great-grandchildren. He also is survived by his siblings: Loren, Maryann, Margaret, Betty, Matt, Regina, Miriam, John and Wally.

Family will receive friends on Friday, April 12, 2019 from 5:00 p.m. to 8:00 p.m. at Brinsfield Funeral Home & Crematory, P.A., 30195 Three Notch Road, Charlotte Hall, MD 20622. A Funeral Service will be held on Saturday, April 13, 2019 at 11:00 at Brinsfield Funeral Home & Cremetory, P.A. 30195 Three Notch Road, Charlotte Hall, MD with internment immediately following at Trinity Memorial Gardens, 3221 Mattawoman Beantown Road, Waldorf, MD 20602. Arrangements by the Brinsfield Funeral Home & Crematory, P.A., Charlotte Hall, MD.