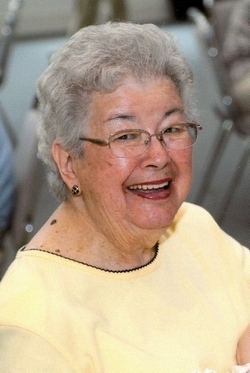 Mary Ann Wells, 88, of Huntingtown, Maryland passed away peacefully on Saturday, April 6, 2019 at her home. She was born on February 16, 1931, in Huntingtown to Guy and Blanche Wilburn and attended Calvert High School. After graduating high school she married the love of her life, Kenneth Wells, and they were married for 65 wonderful years. Both were life-long residents of Huntingtown where they raised their family of two sons, Walter and Michael.

Mary Ann was a lifelong member of Huntingtown United Methodist Church. She also enjoyed singing with the church choir back in the day. She enjoyed cooking and baking and even helping out with planting and stripping tobacco. She was very proud of her awards for her prize-winning African violets and crocheted clowns. She always had a smile on her face and was always a good friend in need.

She was preceded in death by her husband, Kenneth M. Wells, her parents Guy and Blanche Wilburn, and her sisters Janelle Stafford and Norma Lee Gott. She is survived by her 2 sons, Walter (Susie) and Michael (Robin) Wells; 5 grandchildren: 4 grandsons; Kenneth Duke (Christie), Kevin Louis (Ashleigh), Charles Louis (Katie) and Jason Michael Wells, and 1 granddaughter Katherine Hance (RJ) Reynolds. Also surviving are eleven great-grandchildren, Riley, Annabelle, Gracelyn, Emelia, Wyatt, Ellie and Brett Wells, Lane and Ethan Reynolds, and Jackson and Bryce Wells.

Expressions of sympathy in Mary Ann's name may be made to Calvert Hospice, Huntingtown United Methodist Church, or Huntingtown Volunteer Fire Department. Arrangements by Rausch Funeral Home.