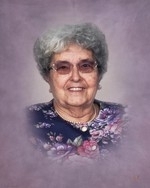 Teresa Louise Lawrence, 89, of Abell, MD died peacefully Wednesday morning, March 27, 2019 at the family home. Born December 18, 1929 in Washington, DC, she was the daughter of the late William F. Battenfield and Mable Anita Garner Battenfield. She attended Holy Comforter Catholic School and Eastern High School, both in Washington, DC. She was employed at the telephone company until she moved to Saint Mary's County in 1949 when she married the love of her life, Charles David Lawrence of Abell, MD. Together they shared 64 loving years and raised seven children. During her lifetime, Teresa was a devout member of Holy Angels Catholic Parish supporting school activities and fundraisers.

Teresa was a self-taught seamstress creating a variety of fashions from prom dresses to Halloween costumes for family and neighbors. She enjoyed cooking, producing delicious cakes and meals to share. Everyone loved to gather in her home and many called her "mom" or "granny".

For 21 years Teresa was a snowbird, spending the winter in Florida with her husband and friends. She organized many feasts at the campgrounds and shared her St. Mary's County cuisine. Her neighbors and friends looked forward to the Lawrences' arrival, knowing Teresa would bring homemade crab cakes and soft shells. Back in southern Maryand, Teresa truly loved being on the water, content to sit in her rocking chair on her porch watching the ducks, birds, and enjoying scenic views. The porch became a gathering place for family and neighbors often brought together to eat crabs and share stories.

Teresa's greatest love and joy was her husband and family. She continually demonstrated the qualities of hard work, determination, patience, independence and hospitality which she instilled in those around her. Teresa always looked after everyone, putting the needs of others before her own. She was the family matriarch who was often visited for advice, an extra hand, or simply her warm loving smile. Teresa was amazing. She was a beautiful person inside and out. Everyone who met her, loved her.

Teresa is preceded in death by her husband, Charles David Lawrence, Sr., her daughter, Joan Scully, son-in-law, Gary Lockhart, grandson Matthew Hiner, and great grandson Nolan Scully. She is also preceded in death by her parents, her brothers William A. Battenfield, Joseph Battenfield, John R. Battenfield, and her sisters Helen Ball, Frances Beitzell, Mable Higgins, Cecilia Hayden, Charlotte Jackson, and Eileen Moore.

Teresa is survived by her children Sue Lawrence Lockhart of Lexington Park, MD, Charlotte (Teeny) Lawrence Spillman (Bill Groves) of St James City, FL , Carol Louise Johnson (Mike) of Bookelia, FL, Nancy Lawrence Suit (Ed) of Melbourne, FL, Charles David Lawrence Jr. (Theresa) of Okeechobee, FL, and Arthur William Lawrence (Nancy) of Leonardtown, MD, son-in-law Kenny Scully of Leonardtown, MD, 17 grandchildren, 21 great grandchildren and 2 great great grandchildren.

Pallbearers are her grandsons Ryan Lockhart, Chris Scully, Johnathan Scully, Christopher (CAL) Lawrence, Michael Lawrence and Mark Lawrence. Honorary Pallbearers are Debra Howe, Jenny Edelen, Cara Moultis, Lisa Beavan, Clint Hiner, Cari Davis, Shannon Lawrence, Nikki Neswick and Casey Lawrence.

The family will receive friends Monday, April 1st from 5 to 8 p.m. with prayers recited at 7 pm in the Mattingly-Gardiner Funeral Home, Leonardtown, MD. A Mass of Christian burial will be celebrated on Tuesday, April 2, 2019 at 10:00 am in Holy Angels Catholic Church, Avenue, MD with Father Sam Plummer officiating. Interment will follow at Sacred Heart Catholic Cemetery in Bushwood, MD. Contributions can be sent to the Seventh District Rescue Squad P.O. Box 7 Avenue, MD 20609.