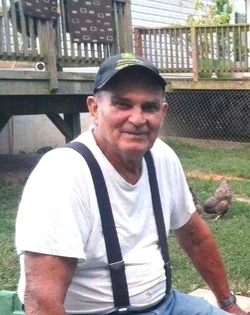 George Parron Tennyson, 83, of Scotland, MD passed away on March 26, 2019 in Leonardtown, MD with his loving family at his side. He was born March 5, 1936 in Scotland, MD to the late Benedict Ekas and Ida Marion Tennyson. George was born and raised on the family farm where he spent his entire life working the farm. He enjoyed getting his hands dirty in the fields but especially loved all aspects of growing tobacco, from the making of the beds in the spring to sitting on the planter, then the spearing in the summer, but most importantly he enjoyed the stripping all winter long while listening to People's Market on the radio.

On March 24, 1958, he married his beloved wife, Joan Marie Balta at St. Michael's Catholic Church in Ridge, MD. Together they celebrated over 50 wonderful years of marriage before her passing in July 2008. He worked beside his father-in-law for a time where he learned the carpentry trade. This taught him how to build his own crabbing skiffs, allowing him to enjoy spending time crabbing and oystering. He spent many nights at the card table with a good game of Pitch or Poker. He always planted more than he needed in his garden but always offered the excess to friends and strangers.

Georgie's kind heart and giving spirit meant he would do anything for anybody without need for recognition or thanks. His family was always a priority, especially his grandchildren, where he would pick them up from school when needed, or build them a sandbox filled with beach sand, or find them a bicycle at the dump. Always the thrifty one! He was the Past President of Ridge Volunteer Fire Department and a life-long member of St. Michael's Catholic Church.

George is survived by his children: Susan Tennyson (Michael) of Lexington Park, MD, James E. Tennyson (Jeanie) of California, MD, Donald P. Tennyson (Betty) of Dameron, MD, Russell D. Tennyson of Scotland, MD; his grandchildren: Jessica Boothe, Patrick Boothe, Melissa Tennyson, Rebecca Tennyson, Christina Tennyson, Brenda Tennyson and Angela Tennyson; his great grandchildren: Trevor, Claire, Eric, Tessa, Layla, and Melanie; his siblings: Wise Tennyson (Ella) of Scotland, MD, Veronica James of Mechanicsville, VA, Clyde Tennyson (Judy) of Scotland, MD, Paul Tennyson (Mary) of Ridge, MD; and many extended family and friends. In addition to his parents, he is also preceded in death by his son, Raymond Tennyson, his brother, Everett Tennyson and his sister Anita Dove.

Family will receive friends on Monday, April 1, 2019 from 5:00 to 8:00 p.m., with prayers at 7:00 p.m., at St. Michael's Catholic Church, 16555 Three Notch Road, Ridge, MD 20680. A Mass of Christian Burial will be celebrated by Reverend Peter Giovanni on Tuesday, April 2, 2019 at 11:00 a.m. Interment will follow in the church cemetery. Serving as pallbearers will be David Norris, Roy Norris, Jeffrey Norris, Stephen Tennyson, Bobby Tennyson and Vince Ridgell. Memorial contributions may be made to Hospice of St. Mary's, P.O. Box 625, Leonardtown, MD 20650 and Ridge Volunteer Rescue Squad, P.O. Box 456, Ridge, MD 20680. Arrangements by the Brinsfield Funeral Home, P.A.