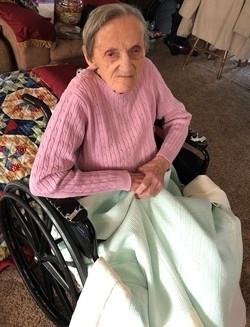 Harriett Burroughs Trent, 90, of California, MD went to be with the Lord on 20 March 2019 in Leonardtown, MD. Born on 10 November 1928 in Chaptico to the late Andrew Alexander Burroughs and Mary Ida (Caywood) Burroughs. She was a graduate of Margaret Brent High School in Helen, MD, Class of 1945.

Harriett was a lifelong resident of St. Mary's County. She had many hobbies, helping on the farm in Oakville, canning fresh vegetables and fruits which she shared with many people. She also took pride in working in her flower garden. She enjoyed cooking for family and friends especially Fried Chicken, Macaroni Salad and Potato Salads. She was employed at the Patuxent Naval Air Station, Comptroller Department. Upon her retirement from the Federal Government she worked for DynCorp for approximately 10 years before she decided to fully retire.

She was preceded in death by her mother and father, as well as her siblings James A. Burroughs, Andrew A. Burroughs, Mary Helen Dean, Virginia Johnson and Audrey Aud. She is survived by her children, David Wayne Trent of California, Md. and Barbara Ellen (Trent) LaBare (Richard) of Hollywood, Md. She was also preceded in death by her son, Coy Allen Trent, JR. She is also survived by her younger brother, Joseph Adrian Burroughs of Avenue. Harriett has left behind many nieces and nephews along with 6 grandchildren, 17 Great Grandchildren and 13 Great Great Grandchildren. Arrangements by the Brinsfield Funeral Home, P.A.