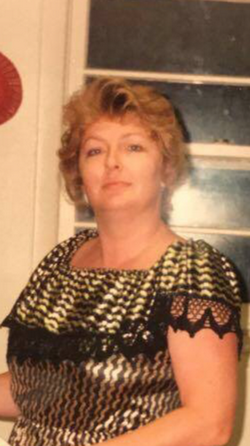 Rosemary D. Harrell, 57, of Prince Frederick, MD passed away on March 21, 2019 in Prince Frederick, MD. Rosemary Dornan Harrell, a long time resident of Calvert County, was welcomed into Heaven's Glory on March 21, 2019 at age 57. She bore her affliction with fortitude, grace, courage and remained, until the end, a pillar of strength for all who knew her. Her devotion to her family and firm belief and trust in God's Son, Jesus Christ, supported her in her time of struggle and ultimately gave her peace. Born September 21, 1961 in Glasgow, Scotland. She immigrated with her family in 1967 at a young age aboard the U.S.S. United States and became a proud citizen of this country. She was the daughter of Elizabeth Dornan and the late James Dornan.

She is survived by her beloved husband of 36 years Mason Thomas Harrell; two sons Chason Thomas Harrell and Ethan Pierce Harrell; and daughter Emily Rose Harrell. At the age of 14, Rosemary met the love of her life, Mason, on Christmas morning and they went through life inseparable. In her youth, Rosemary enjoyed all things outdoors, from time on the beach, sunbathing on the boat, and exploring historic sites. She enjoyed reading outside on warm sunny days, honey buns for breakfast, sitting by the pool with friends, and most of all spending time with her husband and children. Rosemary was a devoted mother and a loving wife, sister, daughter and friend.

The family will receive relatives and friends on Thursday, March 28th, 2019 from 10:00 AM to 12:00 PM at Rausch Funeral Homes in Port Republic, MD. A funeral service will follow at 12 noon with Pastor Floyd Grissom officiating . Interment will follow in Chesapeake Highlands in Port Republic, Maryland.