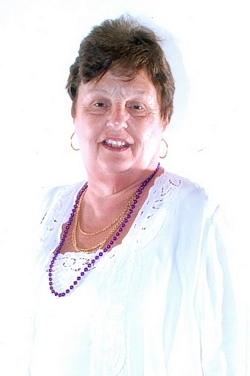 JoAnn Adams, 79, a longtime resident of Chesapeake Beach passed away March 20, 2019. JoAnn was born May 6, 1939 in Cumberland to Frank Leroy and Kathryn Florence (Skipper) Cranford. She was raised in Cumberland and graduated from Fort Hill High School. After graduating, JoAnn moved to Washington, D.C. and worked for C&P Telephone Company and in the accounting department at Peoples Drug.

After moving to Chesapeake Beach in 1965, JoAnn was employed by the Calvert County Board of Education as a Teachers Aid at the North Beach Annex and Beach Elementary Schools. She later was employed in the Accounting Department of Safeway Stores and was an office manager for Cleary Construction. Fulfilling her dream to work with those that needed assistance, JoAnn later worked for the Arc of Southern Maryland and most recently was the Director of On Our Own of Calvert, a wellness and recovery center in Prince Frederick.

JoAnn had a lifetime commitment to the youth of Calvert County, especially in the Twin Beaches; she was both a Girl Scout Leader and Cub Scout Den Mother. In 1967 she founded the Chesapeake Beach Police and Recreation Club, the first of it's kind in the Twin Beach area. She later founded the Twin Beach Majorette and Drum Corps, Legionette Majorette and Drums Corps and DajaVu Color Guard. She was a member of Mt. Harmony United Methodist Church, The Red Hats Society, Maryland Originals Fife and Drum Corps and The American Originals Fife and Drums Corps.

JoAnn loved to travel, as there usually was a packed bag ready at a moments notice. She traveled around the country and Europe performing with the Fife and Drum Corps. She also enjoyed many adventures with her family, Red Hat ladies, and friends traveling the US, Caribbean and Europe. JoAnn was a member of the American Legion Auxiliary Unit 206, Chesapeake Beach, MD and the Woman of the Moose, Chapter 653, Woodbridge, VA.

In 2009, JoAnn was the recipient of the Calvert County You are Beautiful Award and in 2010 she received the Maryland Governor's Volunteer Service Award for her unending dedication to her Community. JoAnn had a huge heart and loved reaching out and helping those in need. She touched the lives of many people and will be greatly missed by those who knew her.

JoAnn was preceded in death by her parents and a brother Gary Lee Cranford. She is survived by son Robert L. Brown and wife Connie of South Sterling, PA, daughter Leslie Brown Andrecs and husband Kevin of Edgewater, grandsons Edward Condit Beall and wife Gina, Aleksander Joseph Andrecs and Bradan Frank Andrecs, brother Donald Cranford of Santa Monica, CA and nieces Stephanie and Stacey Cranford. She is also survived many dear friends and Red Hat members Maggie McLaughlin, Vera Wilkerson, Sandy Lubbes, Patsy Mitchell, Mary Ann Pearson, Grace James, Jean Pounds and Cathy Leufler, as well as the staff and consumers of On Our Own of Calvert. Arrangements by Rausch Funeral Home.