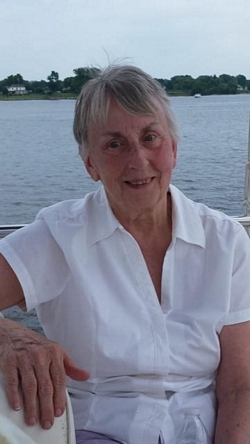 Frances "Fritzie" Gay Zidow, 77, of Lusby, Maryland passed away peacefully on Saturday, March 16th, 2019. She was born August 10, 1941 in New Castle, PA to the late Clarence and Gay (Anderson) Snyder. She was a graduate from New Castle High School and went on to receive her master's degree in Special Education from Slippery Rock University. Fritzie was a retired teacher from Patuxent High School. She devoted herself to providing for her family's future and inspired her children and grandchildren to pursue success in education and hard work.

She was a loving and caring sister, mother, grandmother, and friend. She loved her family more than words could describe. She loved being surrounded by her family, as well as spending time with friends. Her passion was always to be on the water, and to learn to sail. She also enjoyed gardening, traveling, antiquing, and collecting Shenango China. She was an active member of the community and a volunteer at the One Room Schoolhouse. Fritzie also was a member of St. Paul United Methodist Church.

Fritzie is preceded in death by her parents, her brother, John Snyder, and her husband, Robert Zidow. She is survived by her two sisters, Louise Snyder and Patricia Snyder, and brother, Joseph Snyder; her three daughters, Heidi (Jason) Washell, Gaynell (Michael) Deinert, and Gretchen Schweitzer; ten loving grandchildren and four great-grandchildren.

A Memorial Service officiated by Rev. Walter Beaudwin will be held on Monday, April 1, 2019 at 11:00 a.m. at St. Paul United Methodist Church, 11000 H.G. Trueman Road, Lusby, MD 20657. A reception will follow in the activity center. Arrangements by Rausch Funeral Home.