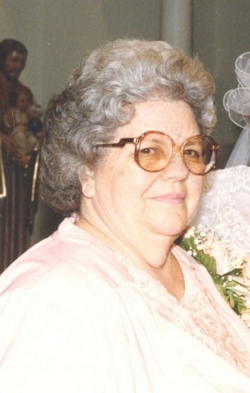 Beulah I. Stalcup, 85, of Hughesville died March 9, 2019 at Calvert Health in Prince Frederick, MD. She was a lifelong resident of Charles County. Born July 25, 1933 in Marshall Hall, MD she was the daughter of the late Adam G.Shuemaker & the late Lillian Mae Dudley. She was preceded in death by her loving husband, Joseph F. Stalcup, her son, David L. Stalcup and her sisters Naomi Jenkins, Lillian Hayes & Susan Buchanan.

As a young adult, she worked as a waitress at La Plata Diner, where she met the love of her life, Joe Stalcup. After her children were grown, she was the office manager for Joe's delivery service, Action Cargo. She spent most of her life being a loving wife & mother. Her hobbies included jigsaw puzzles, doing puzzle books, playing bingo & cooking for her family.

She is survived by her sons Thomas Stalcup (Darlene) of Hollywood, Md. John Stalcup (Tina) of Lothian, MD and her daughter, Cindy Schauer (Jerry) of Mechanicsville, Md. She is also survived by her sisters, Dolly Willett, Gal Robey, Teeni Willett & Evelyn Ott. Her brothers, Juddy Pickeral & Billy Pickeral. Her grandchildren TJ Stalcup (Tabitha). Michael Stalcup (Kayla) Joey Stalcup (Jamie) & Angie Kalnasy (Chris). Her great grandchildren Kylie Stalcup, Jackson Stalcup & Brayden Stalcup. As well as many cousins, nieces & nephews, whom she loved dearly.

Visitation will be held on March 15 from 2-4pm & 6-8pm with prayers at 7pm at Huntt Funeral Home in Waldorf, Md. Services will be on March 16 at 10 am at Huntt Funeral Home. Reverend Charles A. Kelly will officiate. Burial will take place immediately following service at Trinity Memorial Gardens in Waldorf, Md. Pallbearers will be TJ Stalcup, Juddy Pickeral, Paul Hooper, Karen Jenkins, Donald Hill & Donald Hughes. Honorary pallbearers will be Billy Pickeral, Brad Bittner, Mikie Hayes, Jeff Stout & Shorty Pickeral. Arrangements are being handled by Huntt Funeral Home.