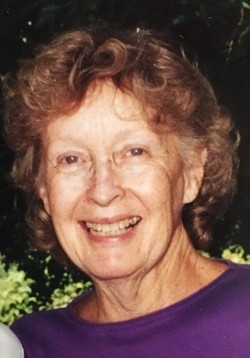 Mary Davis Hartshorn, born October 10, 1928 passed away at the age of 90 on Wednesday, February 27, 2019 at The Hermitage at St. John's Creek with her loving family at her side. Married to Robert Hartshorn on September 12, 1959 in Bethesda, Maryland, they celebrated 48 years of marriage before Robert passed away in 2007. In 1950, Mary earned her Bachelors of Fine Arts, with a minor in Economics from George Washington University. While attending George Washington University she was integral in developing and implementing the GWU Women's Sailing Team.

Mary had an adventurous spirit, traveling around the United States and Europe while working for Pan American Airlines. She loved to snow ski, sail, play tennis, and swing dance. Music was a passion of hers, especially Big Band music. The ocean was her favorite place to be. Pacific, Atlantic, it did not matter as long as she could take a dip and hunt for sea-shells. In her later years she held many different jobs but most enjoyed her work as a Registrar at Harry Lundenburg School of Seamanship in Piney Point, Maryland.

A loving wife, mother, grandmother, sister, aunt, and loyal friend, Mary was devoted to God her Father and lived out her lifes' verse, Ephesians 4 verse 32. She truly was kind to all.

Mary is survived by her children Susannah Lynch of Hollywood, Md., Sarah Hartshorn-Brown of Hollywood, Md., Beth Beardall of Canada, her niece Maureen Blanton of West Va., and her six grand children and two great grand children. Mary is preceded in death by her husband Robert Hartshorn, her sister Jane Arrants, and her niece, Joy Arrants.

The family will receive friends on Thursday, March 14, 2019 from 5:00 to 7:30 p.m., at Brinsfield Funeral Home Chapel, 22955 Hollywood Road, Leonardtown, Md. 20650. The celebration of life service will begin at 6:30 p.m. Interment will be private. In lieu of flowers, memorial contributions may be made to the CareNet Pregnancy Center of Southern Maryland in Lexington Park Md., or to Calvert County Hospice in Prince Frederick Md. Arrangements by the Brinsfield Funeral Home, P.A.