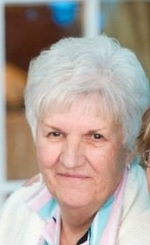 Lucy Marie Lacey, "Lucy", 79, of Leonardtown, MD passed away on February 22, 2019 in Newburg, MD. She was born on November 9, 1939 in Newburg, MD and was the loving daughter of the late Eva Marie Volker Long and Thomas Lawrence Long. Lucy was the loving wife of the late Leonard A. Lacey, Sr. whom she married on April 23, 1960 in St. Mary's Parish Newburg, MD and who preceded her in death on October 31, 1994.

Lucy is survived by her children Deborah L. Higgs (Bobby) of Leonardtown, MD, Leonard A. Lacey, Jr "Lenny" (Sue) of Lexington Park, MD, Eva M. Hall (Wayne) of Chaptico, MD, 4 grandchildren Danielle I. Lacey, April C. Hall, Hillary K. Combs, and Rachel M. Hall. As well as siblings Elizabeth Helm, Janet Sullivan, and Mary Cusic. She graduated from Archbishop Neal School in 1958.

Lucy moved from Charles County, MD to St Mary's County, MD in 1960. She was a cafeteria worker for St Mary's County Board of Education for 21 years, retiring in February, 2014. Lucy enjoyed reading, crocheting, puzzles, spending time with her children, grandchildren and sisters.

The family will receive friends on Thursday, February 28, 2019 from 5:00 PM to 8:00 PM with prayers recited at 6:30 Pm in the Mattingley-Gardiner Funeral Home Leonardtown, MD. A Mass of Christian Burial will be celebrated on Friday, March 1, 2019 at 10:00 AM in St. Francis Xavier Catholic Church Leonardtown, MD with Father Rob Maro officiating. Interment will follow in Charles Memorial Gardens Leonardtown, MD. Pallbearers will be David Cusic, Collin Brooks, David Lacey, Bruce Lutz, Brian Drew, and Jimmy Greenwell. Contributions may be made to Hospice of St. Mary's P.O. Box 625 Leonardtown, MD 20650, and Seventh Dist. Vol. Rescue Squad P.O. Box 7 Avenue, MD 20609.