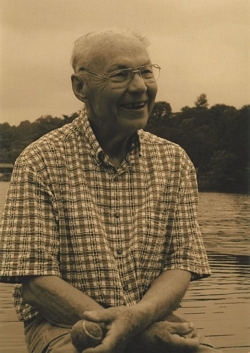 Wolfgang Dietz, aged 92, passed away peacefully on Wednesday, February 20, 2019 in his home in Lusby, Maryland. He was born on December 16th, 1926 to Gustav and Erna Dietz in Freiburg, Germany, the eldest son of ten children, Esther, Ottilia, Erni, Gerhardt, Herbert, Gustav, Gunther, Edith, and a twin sister Gerda. As a youth, he enjoyed working on farms and vineyards, skiing, hiking, hang gliding, flying glider planes, motor bikes and even once rode his motorbike across Europe.

He earned a diploma as an electrical engineer, then worked for over 50 years in the field of deflection and the design of circuits for radio and television for Saba, Siemens, Motorola, RCA Laboratories and Intergraph. He met his wife, Shirley, when he emigrated to Canada. They married in Toronto, then moved to Chicago and together raised 5 children, living mostly in New Hope, Pennsylvania.

Wolfgang loved walking outside, hiking in the mountains and woodworking, creating unique and beautiful furniture for family and friends. Most of all, he loved his Lord and Savior and devoted his life to His service, the love of others and sharing the wonderful news of how Jesus died on the cross for our sins to save us. He and his wife, Shirley, held a Bible study in their home for over 15 years. He always held his home and heart open to anyone and everyone.

Wolfgang is survived by his wife Margaret Shirley (nee Granger); two brothers Gustav Dietz (Grace), Gunther Dietz (Lilo); two sisters, Erni Laegeler (Rolf), Edith Dupont; five children, Timothy Dietz (Janis), Bernhard Dietz (Pam), Philip Dietz (Mary), Annette Arocho (Nelson), Shirley Dietz; fourteen grandchildren and three great grandchildren.

The family will receive friends on Monday, February 25, 2019 at the Rausch Funeral Home, 20 American Lane, Lusby, MD from 10:00 AM until the time of funeral services at 11:00 AM. Interment will follow in the Chesapeake Highlands Memorial Gardens Cemetery, Port Republic, MD.

The family asks that in lieu of flowers, donations be made to Fund for Christian Service, 820 Blanchard St., Unit 1701, Seattle, WA 98121 or Calvert County Hospice, PO Box 838, Prince Frederick, MD 20678. Arrangements by Rausch Funeral Home.