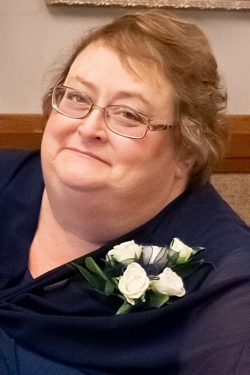 Linda Ann Giles, 62, of Prince Frederick passed away February 11, 2019 in Washington, D.C. She was born August 18, 1956 in D.C. to Robert Emil and Celeste (Brunori) Crickenberger. Linda lived with her family in Hyattsville and Clinton and graduated from Surrattsville High School. She then received several Associates Degrees from College of Southern Maryland in communications, general studies and psychology.

She was employed as a testing center manager with CSM in Prince Frederick. She married David John Giles on August 30, 1975 and they lived in Owings, Lower Marlboro and North Beach, before moving to Prince Frederick. Linda was a member of the Jesus Christ of Latter-Day Saints Church in Sunderland. She enjoyed cooking, baking and most of all spending time with her family, especially her grandchildren.

Linda is survived by her loving husband, David John Giles and children Jaime A. Abelitis and husband Jason of Martinsburg, WV, Melissa S. Murray and husband Matthew of Prince Frederick, Megan R. Smith and husband Michael of Springdale, AR and Corrine J. Bisbee and husband Will of Springdale, AR. Also surviving are grandchildren Daniel, Alyssa, David, Elizabeth, Ethan, Cameron, Devin, Madelyn and Lillian and a brother Robert Crickenberger and wife Brenda of Chesapeake Beach. Linda was preceded in death by children Melanie and David Giles. Arrangements by Rausch Funeral Home.