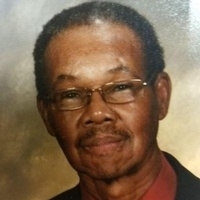 On Monday, February 4, 2019, John Louis Brown "Johnny" transitioned from life here on earth, to his eternal home in Heaven. Johnny, one of the many affectionate names he was called by all who knew him, was born on September 17, 1937 in La Plata, Maryland to John Francis Brown and Estelle Norris. Johnny was educated in the Charles County Public School System; only completing an eight (8th) grade education. But that wouldn't stop Johnny; for in life, he became a master carpenter and would one day end up building the family home from the ground to its completion.

At an early age, Johnny accepted and professed a relationship with Jesus Christ. Over the years, he became a member of Sacred Heart Catholic Church in La Plata, Maryland. Johnny loved singing in the gospel choir, going fishing, gardening and just being in the outdoors. You could often find Johnny riding on his infamous John Deer lawn tractor; not that anything in the yard needed to be done, but he would find stuff to do just because of his love for the outdoors. Johnny loved watching sports and his favorite shows on television in his favorite spot in the basement; the original man-cave. And while there, you could hear him rooting for his favorite sports team, the Washington Redskins. Johnny also loved his music! As the locally known "J.B.", he was very fond of the music of another "J.B."; the 'Godfather of Soul' himself, James Brown.

When Johnny heard his 'main man' James Brown's music playing, he immediately got into the groove with his own jig! Johnny was also a musician at heart. He played the harmonica, guitar; and if you put a pair of spoons in his hands, he could play those too! Those that heard him play would say it was noise; but to Johnny, he was creating music to the ears! Probably of all the activities Johnny was involved in, near and dear to his heart was his ability to create and build. A master at his craft, Johnny could build anything! Besides the family home, Johnny assisted family and friends alike in projects that they needed help with. Johnny was a quality craftsman, and his finished work showed that he put his all into whatever he created.

Johnny was married to the love of his life, the former Jean Marie Holmes, whom he affectionately called his "Jeany". They were united in marriage for fifty-eight (58) years! From this union, they became the parents of nine (9) children: Shirl, Michael, Kenneth "Kenny", Karen, Melissa, Angela "Angie", Joseph "Joey", Richard "Ricky" and Darrell. Johnny and Jean were also foster-parents to a host of children over the years. Johnny started his work career with the Independent Grocers Alliance grocery chain, also known as I.G.A.; then in La Plata, as a butcher. He continued his career with the Charles County Board of Education; where he served as a Carpenter for more than thirty-five (35) years.

Johnny was preceded in death by his parents John and Estelle Brown; along with his brothers Lawrence and Sonny Brown. Johnny leaves to cherish his memory, his bride of fifty-eight (58) years, Jean Brown. Siblings: Evelyn B. Robinson, Mildred B. Robinson, Shirley B. Ridley (Francis), Joyce M. Brown, Gloria B. Hicks (Wilbur) and Agar P. Brown (Carolyn). Children: Shirl Chisley (Thomas "Gerard"), Michael Brown, Kenneth Brown, Karen Dennis (Sean), Melissa Savoy (Marvin), Angela Robinson (Anthony "Tony"), Joseph Brown, Richard Brown (Naomi) and Darrell Brown. Grandchildren: Jason Yates, Cedric Tolson, Natasha Brown, Cynthia Brown "Tooie", Gerard Chisley, Jordan Savoy, Ta'narnia Chisley, Imani Dennis, Fayeshun Brown, Jalen Savoy, Tyler Brown, Mya Brown, Anthony Robinson and Autumn Robinson. Johnny is also survived by a host of great-grandchildren, nieces, nephews, brothers and sisters-in-love; and special friends. Johnny will be missed by many. He enjoyed the gathering of family and friends in his earthly home, but he has now entered into his eternal rest in his heavenly home.

His Viewing will be, 9:00 am, until Mass of Christian Burial, 10:00 am, Monday, February 11, 2019 at Sacred Heart Catholic Church, 201 St. Mary's Avenue, La Plata, MD. Interment, Church Cemetery. Arrangements by Thornton Funeral Home.