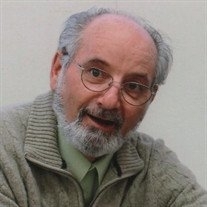 Zsolt Peter Takacs, of Huntingtown, MD formerly of Valley Cottage, NY passed away peacefully on Tuesday January 29, 2019 at the age of 72. Born in Tg-Mures, Romania he was the son of the late Joszef and Anna Takacs. He obtained an undergraduate degree in agricultural economics from an institute in Cluj-Napoca, Romania. He also obtained a Bachelors of Science in business administration at Dominican College of Orangeburg, NY. He was a condominium Superintendant for many years in New York, retiring in 2015. He loved the challenge of fixing things, gardening, watching ice hockey, and spending time with his family.

He had a dozen tool boxes, one for each discipline, and was happiest when you asked him to repair something. He was active in the Nyack Community Garden in NY, and was always pampering his heirloom tomato and pepper plants in his backyard garden. He cheered for whichever team was the underdog in the game. He enjoyed organizing the items for charity auctions and helped raise funds for the Transplants Saves Lives charity. He always looked forward to attending his high school and college reunions in Romania. He especially loved spoiling his grandchildren; reaching into an old metal tin in the fridge filled with chocolate way too many times.

He is survived by his daughter Andrea Takacs Hurley, son-in-law Mark Hurley, and grandchildren Andrew and Madelyn Hurley all of Huntingtown, MD and by his former spouse Adriana Takacs of Prince Frederick, MD. He is also survived by his brother Joszef Takacs in Tg-Mures, Romania and his sister Ildiko Szabo in Battonya, Hungary, their spouses and their children and grand children.

Zsolt's warm smile, constant kidding and jest and adventurous sprit will be greatly missed by his family and the many friends whom he thought of as family. In lieu of flowers, memorial contributions can be made in Zsolt's name to St John's Vianney Catholic Church, 105 Vianney Ln, Prince Frederick, MD 20678. Services will be held at the convenience of the family in Romania. Arrangements by Lee Funeral Home.