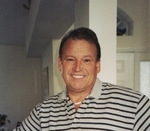 William Leonard "Billy" Farr of Great Mills, MD passed away on Sunday, January 27, 2019, surrounded by his loving family, at MedStar St. Mary's Hospital in Leonardtown. Billy (or Buster as he was named by his 3-year-old "big" sister who couldn't pronounce brother), was born on July 2, 1951, to the late William L. Farr, Sr. and Julia Cecelia Guy Farr in Leonardtown, MD.

Billy attended the original St. Joseph's School and graduated from what is now Mother Catherine Academy. He was a 1970 graduate of Chopticon High School and was a member of the Maryland National Guard, from which he was honorably discharged on June 17, 1976. He was a Master Meat Cutter for the original A&P Grocery chain that was later called "Super Fresh". He was employed by The A&P for 32 years, retiring on January 26, 2002.

He is survived by his son, William L. Farr, III (Sarah) of Hollywood, his stepsons, Michael Adams of Mechanicsville, MD, and Tony Adams (Tricia) of Bryan's Road, MD. He was a loving, doting and hands-on grandfather to William L. "Leo" Farr, IV, Ty Christian Farr, Tallie Ann Farr, and Corbin Gooslin of Hollywood; Mikayla and Jordan Adams of Mechanicsville, and Franki and Lincoln Adams of Bryan's Road. Billy is also survived by his siblings, Sara "Sally" Mattingly of Loveville, Julie Mattingly (Roger) of Leonardtown, John Farr (Meg) of Dumfries, VA, and Jerry (Sharon) Farr of Hollywood. Billy was predeceased by his beloved brother, Warren David (Karen) Farr of Loveville.

Although all of his brothers and sisters were die-hard Washington Redskins fans, Billy just had to be a Dallas Cowboy football fan which made for many Sundays of high spirited football watching. He enjoyed watching NASCAR, fishing in the Gulf of Mexico, and golfing. Of the many hundreds of cars, trucks, campers, motorcycles, lawn mowers, tractors, and boats that he had owned over the years, there probably was never one that looked the same once they were owned by Billy. He very much enjoyed "tinkering", taking them apart and putting them back together, and always make sure that not a speck of dust or dirt was on or in his vehicles.

Other than the 7 years he lived in Tampa, Florida, Billy was a devoted member of St. Joseph's Catholic Church in Morganza, MD where he was baptized, made his First Penance and First Communion, was Confirmed, and faithfully served as an altar boy.

The family will receive friends on Friday evening, February 1, 2019 from 5:00PM to 8:00 PM with prayers recited at 7:00 PM. A Mass of Christian Burial will be celebrated on Saturday, February 2, 2019 at 10:00 Am in St. Joseph Catholic Church Morganza, MD with Father Drew Royals officiating. Interment will follow at Queen of Peace Catholic Cemetery Helen, MD. Pallbearers will be John A. Mattingly, Jr, Michael Adams, Tony Adams, Christopher Farr, Ryan Farr, Todd Farr, George Higgs, and Timothy Corley.

In lieu of flowers, the family has requested that donations be made to the Pulmonary Fibrosis Foundation at plmonaryfibrosis.org or St. Jude's Children's Research Hospital, 262 Danny Thomas Place, Memphis, TN 38105. Arrangements by Mattingley-Gardiner Funeral Home.