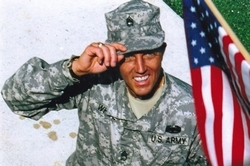 Gordon Edward White, 56, a resident of Prince Frederick, MD passed away peacefully on January 28, 2019. He was born on March 1, 1962 in Wilmington, DE to Frederick Eugene White and Mary Alice Lynch who predeceased him.

He grew up in Moorestown, Pennsylvania and attended Northampton High School (wrestler and golfer) and earned his bachelor's degree from Black Hills State University in South Dakota. Gordon was married to Richelle White and leaves his legacy to his daughter, Bailey, and his son, Spenser. He also leaves behind many very loving cousins and friends who will fondly remember him for his generous, loving heart and "Gordie" ways.

Gordon was a devoted patriot who served his country honorably in the Air Force and Army Reserves for 20 years where his military career included roles as security police, combat engineer, and medical care specialist. He spent almost 11 years with the Air Force including 2 tours of active duty during Desert Storm in the 1980s. During his active duty time with the Army Reserves he fought the war against terrorism in Iraq for 2 tours in 2005 and again in 2007. In both branches he received numerous commendations and awards.

While living in South Dakota he took up rock climbing, iron-man type competitions, and body-building. Later when he moved to Maryland he engaged in cycling and kayaking, but running marathons was one of his passions and he ran over 25 nationally and internationally since the age of 40.

He enjoyed anything that was an adventure, and he traveled extensively throughout his life: China, Europe, Australia, the UK, and the Middle East. Fitness and health was a priority to him and he loved to give advice to people on how to live a healthier and better life. He always wanted to make a positive impact on others. Gordon loved any family or friend gathering where there was good food and good company.

In lieu of flowers, the family asks that donations be made in his name to the MSA (Multiple System Atrophy) Coalition at https://www.multiplesystematrophy.org/msa-donation or Calvert Hospice https://calverthospice.org/make-a-gift/ 238 Merrimac Court, Prince Frederick, MD 20678. Arrangements by Rausch Funeral Home.