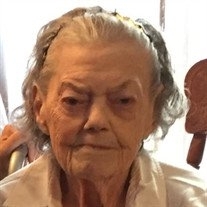 Mae Ester Dement, age 91, of White Plains, Maryland, died January 27, 2019. Mae was a Computer Programmer for 30 plus years with the National Center for Health Statistics and a member of St. Joseph's Catholic Church in Pomfret, Maryland.

She assisted with Food for the Poor and was a volunteer with the Archdiocese of Washington with her time and talent. She was known for helping her brothers and sisters, family was very important to her. She is survived by her nephews, Leroy Dement and Charles Moorman and her nieces, Susan Cusic, Rose Montgomery, Elaine Staley, Elizabeth Willett, and Barbara Jean.

Friends received on Monday, February 4, 2019 from 9:30AM until time of Funeral Service at 11AM at Raymond Funeral Service Chapel, 5635 Washington Avenue, La Plata, Maryland 20646. Interment to follow at Resurrection Cemetery, 8000 Woodyard Road, Clinton, Maryland 20735. Memorials are asked to the American Cancer Society.