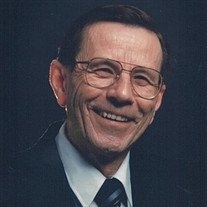 Jay Sanford Johnston, age 92 of Forest Park (Waldorf, Maryland), died January 26, 2019. Born July 28, 1926 in Greeneville, Tennessee, he was the second son of Joseph Sanford and Maggie Ozell Guinn Johnston.

Jay was employed by the Charles County Treasurer's Office, retiring in 1992 after 20 years and was a member of Calvary United Methodist Church and the American Legion Post 221 in Avenue. He also served with the U.S. Army Air Corp in the Pacific during World War II.

In addition to his parents, he was also predeceased by his wife, Ruth Roberts Johnston on March 17, 2002, whom he married on December 14, 1952 in Greeneville, Tennessee; his sisters, Johnnie Roberts (Edward), Claudia Johnston, Fannie Kate Johnston, and Margaret Ellen; and his brothers, Leland, Lloyd, and Tommy.

He is survived by his children and their spouses, Martha Ellen Fluharty (Cliff) of Greeneville, Tennessee, Eric Wayne (Karen) of Hughesville, Philip Carroll (Tabby) of La Plata, and Sara Ann Brock (Eddie) of Benedict; his siblings, Bruce (Mary) of Bristol, Tennessee, Charles of Cookeville, Tennessee, and Joe Ann Hawk (Billy) of Greeneville, Tennessee; and his grandchildren, Dan (Amy) Fluharty, Erin (Mike) Iverson, Kristina (William) Christian, Joe (Sarah) Johnston, Kelli (Mike) Welch, Megan Johnston, Shelby Johnston (Brandon King), Kim (Charlie) Garner, and Sam (Breanne) Brock. He is also survived by 12 great grandchildren and one great-great grandchild.

Friends received on Friday, February 1, 2019 from 5-8 PM at Raymond Funeral Service Chapel (5635 Washington Avenue, La Plata, Maryland 20646). Funeral Service on Saturday, February 2, 2019 at 10 AM at Calvary United Methodist Church (3235 Leonardtown Road, Waldorf, Maryland 20601). Interment to follow at Trinity Memorial Gardens (3221 Mattawoman-Beantown Road, Waldorf, Maryland 20601).

Pallbearers: Dan Fluharty, Joe Johnston, Sam Brock, Ben Fluharty, Charlie Garner, and Mike Welch. Honorary pallbearers: Tommy Howe, Bobby Russell, Archie Verdiglione, Don Grant, Wayne Thompson, Mike Iverson and the Calvary United Methodist Men. In lieu of flowers, contributions may be made to Calvary United Methodist Church (3235 Leonardtown Road, Waldorf, Maryland 20601) OR Hospice of Charles County (2505 Davis Road, Waldorf, Maryland 20603).