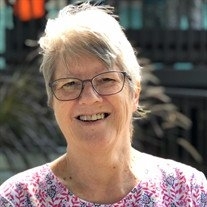 Janet L. Stevenson, 77, of St. Leonard, MD, passed away on Sunday, January 27, 2019 in her home surrounded by her loving family. Janet was a bookkeeper for Bowie Auto Glass, which she owned with her late husband John. She enjoyed baking, reading, cooking, going to the beach and spending time with her family.

She was the beloved wife of the late John C. Stevenson, who passed away on June 15, 2017 and the loving mother of Janice Harman (Tim), Scott Harry (Susan), Kris Heppeler, Stephanie Harry, Keith Stevenson (Cindy), Kenny Stevenson (Lisa), Pam Ford and John Stevenson (Tammy). Janet was the devoted grandmother of 14 grandchildren and seven great-grandchildren. She was the sister of Robert Campbell and the aunt of Allen Stevenson.

Family invites friends to Lee Funeral Home Calvert, 8200 Jennifer Lane, Owings, MD 20736, on Thursday, January 31 from 11 am until start of Funeral Services at 12 noon. Burial will follow at Lakemount Memorial Gardens, 900 W. Central Avenue, Davidsonville, MD 21035. In lieu of flowers, memorial contributions may be made in Janet's name to Calvert Hospice, P O Box 838, Prince Frederick, MD 20678.