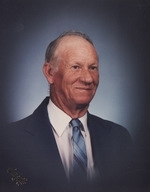 Joseph "Howard" Lacey, 88, of Avenue, MD passed away at MedStar St. Mary's Hospital on January 25, 2019 with his loving family at his side as they have been for some time. He was born on December 1, 1930 in Oakley, MD and married the love of his life, Dorothy Marie Bowles on October 30, 1954 at Sacred Heart Church. He is survived by his wife, Dorothy of 63 years of marriage. They were companions and a sign of "true love" for their children to cherish. He was the loving son of Walter Lacey and Minnie Lacey.

He is survived by his sisters, Shirley Knott of Chaptico, Dorothy Trossbach (Philip) of Avenue, brothers, Ed Lacey (Ida) and Joe Lacey (Gertrude) both of Avenue. He is also survived by his four children, Catherine Hayden of (Mechanicsville), Linda Reinmuth (Dale) of Mechanicsville, Donna Goddard (Sam) of Dameron, and Patty Burch of Bushwood. He is survived by 7 grandchildren and 8 great-grandchildren. He was predeceased by his sisters, Margaret Hill, Louise Mattingly, Ann Cheseldine and Theresa Thompson, brothers, John G. Lacey and Andrew Lacey. Joseph worked for the State Highway in Highway Maintenance and then as a Mechanic along with farming. He worked 30 years until his retirement.

He loved his four girls and did everything he could possibly do for them. He was loved dearly by his girls and grandchildren and will be greatly missed by all who were blessed to have known him. He enjoyed family gatherings. He also enjoyed gardening, hunting and mechanic work. His favorite hobby and past time was fishing. Time spent on the water was like heaven to him. He was of the Catholic faith and it meant the world to him. Sacred Heart was his Church home.

The family will receive friends on Thursday, January 30, 2019 from 5:00 PM to 8 PM and prayers at 7 PM in the Mattingly-Gardiner Funeral Home, Leonardtown, MD. A Mass of Christian Burial will be celebrated on Friday, Feb. 1, 2019 at 10:00 AM. at Sacred Heart Church in Bushwood, MD with Father Samuel Plummer officiating. Interment will follow in the Church cemetery. Pallbearers will be his grandsons, Rick Murphy Jr., Joe Jackson Jr., Steve Murphy, Sammy Goddard Jr., Allan Goddard and Cody Burch. Honorary Pallbearer will be his granddaughter, Lacey Burch. Memorial contributions may be made to Hospice of St. Mary's, P.O. Box 625, Leonardtown, MD 20650 or Seventh District Vol. Rescue Squad, P. O. Box 7, Avenue, MD 20609.