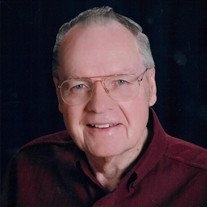 Clarence Raymond "Ray" Whittington Jr., 84, passed away at home on Sunday, January 20, 2019. Born July 1, 1934 in Washington, DC, he was the son of the late Clarence Raymond Whittington Sr. and Frances Burch Whittington. Ray was raised in Dunkirk, Maryland, and was a graduate of Calvert High School. After graduating, he enlisted in the U. S. Army and served from 1952 -1955.

In July 1955, he married his high school sweetheart Esther Clark "Clarkie" Hardesty. She passed away in 1975. In 1976, he married Helene J. "Sue" King, and they enjoyed nearly 43 years of marriage together. He was self-employed with Ray Whittington's Grocery, Montgomery Ward Catalog Agency, Ray's TV & Appliance. He was also a Bus Contractor of 41 years with Calvert County Public Schools. He enjoyed spending time with his family, was an avid reader, enjoyed playing golf, baseball, and going to Baltimore Orioles games. Ray also enjoyed waterfowl hunting, gardening, and traveling in their RV with friends and family.

In addition to his parents and his first wife Clarkie, he was preceded in death by his step-mother Jane Owens Whittington; brother Francis Edward Whittington; his sister Barbara Whittington Simard; infant brother William Whittington; great grandson Harvey A. Burgess. In addition to his wife Sue, Ray is survived by his children Helene Simpson (Edward), Kathleen Burgess (David), Beth Clarrae Whittington Crawford, Kenneth B. King, and Amy-Lu B. Whittington Clark (Harry); grandchildren Bradley A. Burgess (Karen), Benjamin E. Simpson, Rachael L. Clark, Daniel D. Burgess (Marie), Julianne N. Simpson, Jeffrey Whittington Lloyd, and Kyle H. Lloyd; great grandchildren Hudson B. Burgess, Henry Clarence Burgess, Cameron Friel, and Sophia E. Burgess; siblings Janet E. Whittington Kuhlman, Brenda J. Whittington Mulcahy, Joseph L. Whittington (Cindy) and Douglas O. Whittington (Lynne).

A visitation will be held on Thursday, January 31, 2019 from 5PM to 8PM at Raymond Funeral Service, P.A., 5635 Washington Avenue La Plata, Maryland 20646. Mass will be offered on Friday, February 1, 2019 at 10AM at Sacred Heart Catholic Church, 208 St. Mary's Avenue, La Plata, Maryland 20646. Interment to follow at Southern Memorial Gardens in Dunkirk, MD. In lieu of flowers, memorial contributions may be made to Hospice of Charles County, 2505 Davis Road, Waldorf, Maryland 20603.