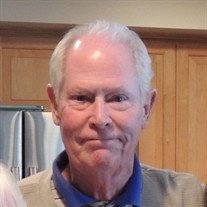 Former Michigan resident Raymond John Van Vuren, Jr. passed away on January 19, 2019 with his children by his side. Mr. Van Vuren was born June 19, 1932 in Lansing, IL to Raymond and Velma Van Vuren. Raymond served in the U.S. Air Force during the Korean War as an airman and was trained as a military air traffic controller.

In 1953, he married his high school sweetheart, Winona Lavery, in Grand Rapids, MI. Seven and nine years later, Raymond and Winona welcomed two children, William and Linda. Following his tour of duty, Raymond spent the remainder of his career, about 40 years, in public service with the Federal Aviation Administration. He worked first as an air traffic controller and then, ultimately, he was named the national Director of Air Traffic Service. Raymond saw the agency through the air traffic controllers' strike of 1981 and was instrumental in the construction of the air traffic control system still in use today in the United States.

Raymond is survived by his wife of 65 years, Winona; son, William; daughter, Linda; grandchildren, Dina, Andrew, Sarah, and Gianna; and great grandchildren, Aidan, Nora, Owen, and Charlotte. Viewing and service will be held at Raymond Funeral Chapel in La Plata, MD on Saturday, January 26, 2019 beginning at 10AM. Interment at Trinity Memorial Gardens.