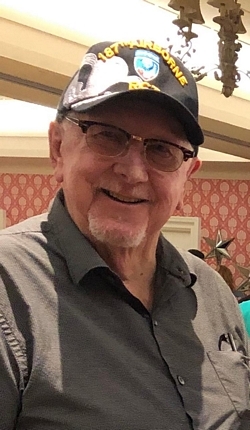 Curvin Levere Harbold, 88, of Charlotte Hall, Md., passed away on December 29, 2018 surrounded by those he loved. He was a wonderful husband, father, grandfather, great-grandfather, and friend.

Curvin was born on July 9, 1930 in Dillsburg, Pa. to the late Roy and Nora Harbold. Curvin married the love of his life, Patricia Barbara (Dwyer) Harbold, on September 10, 1960. They were married for 47 years and had three children.

Curvin proudly served as a Paratrooper during the Korean War in the 187th Airborne. He then spent the remaining years of his career in retail, managing several department stores, and participated in local politics. He enjoyed watching sports, playing shuffleboard, golf, and being social with his friends in The Villages, FL. He would have been lost without his special friend, Connie, and enjoyed going on adventures with her.

He is survived by his sons Steve and Brian; his daughter-in-laws Brenda (Weit) and Susan (Blomquist); his grandchildren Heather (Harbold), Kyle Kolbe, Douglas Harbold, Eleyna McKamey, and Shane Geesling; and his great grandchildren Douglas Harbold, Jr., Emma McKamey, Mason Geesling, and Margot Kolbe.

In Lieu of flowers, donations can be made in Curvin's honor to:

Wounded Warrior Project
PO Box 758517
Topeka, Kansas 66675-8517

Services will begin with a viewing on Friday, January 11, 2019 from 12:00pm - 2:00pm at Cocklin Funeral Home, 30 North Chestnut Street, Dillsburg, PA 17019. Burial services will follow at Dillsburg Cemetery, Mountain Road, Dillsburg, PA 17019. Family and friends are welcome to attend.