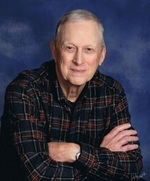 Carl D. Myers, 71, of Lexington Park, MD formerly from Monroe, IN and Kintnersville, PA passed away on December 30, 2018 in Arlington, VA. He was born on June 5, 1947 and was the son of the late Juanita Wintrow Myers and Charlie H. Myers. Carl was the loving husband of the late Elizabeth Jean Myers, whom he married on September 24, 1971 in Virginia Beach, VA, and who preceded him in death on February 1, 2010.

Carl is survived by his children, Carla Jean Wilson (Christopher Edmond) of Arlington, VA; Michael G Myers of New York, NY; two grandchildren, Cecelia Elizabeth Wilson and Charles Edmond Wilson; as well as his siblings, Dave Myers of Topeka, IN and Lynn Myers of Monroe, IN. He graduated from Adams Central High School in Monroe, IN in 1965 and earned a Bachelor's Degree of Science in Engineering Technology from Old Dominion University in 1976.

Carl served in the United States Navy from March 28, 1968 to July 16, 1969 and was stationed aboard the USS America aircraft carrier. While serving in the United States Navy, he earned the National Defense Service Medal. He moved from Bucks County, PA to St. Mary's County, MD in 1996. Carl worked at the Naval Air Station Patuxent River in Patuxent River, MD as an Electrical Engineer for 17 years, retiring in 2013. He was a proud member of the American Legion and served on the vestry at St. Mary's Chapel. Carl enjoyed spending time with family and friends, reading, and visiting the Outer Banks with his family.

The family will receive visitors on Friday, January 11, 2019 from 4:00PM to 7:00 PM, with prayers recited at 6:00 PM in the Mattingley-Gardiner Funeral Home in Leonardtown, MD. A Funeral Service will be held on Saturday, January 12, 2019 at 11:00 AM at St. Mary's Chapel in Ridge, MD, with Father John Ball officiating. Interment will be private. Pallbearers will be Dave Myers, Lynn Myers, John Myers, Katie Fisher, Christopher Wilson, and Brennan O'Connor. Contributions may be made in Carl's name to St. Mary's Parish Building Fund for Sunday School Renovations (checks payable to "St. Mary's Parish"), P.O. Box 207, St. Mary's City, MD 20686 or to the Disabled American Veterans, www.dav.org, two causes close to Carl's heart.