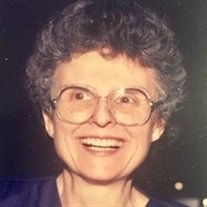 Elenore Mary Albright, 88, of Dunkirk, MD passed on December 30, 2018 in her home surrounded by loved ones. Born in Newark, NJ she was a daughter of the late Joseph and Mary (Winkelman) Felber. She was the beloved wife of John R. Albright. They celebrated their sixty-sixth wedding anniversary on June 28, 2018.

She worked as a bookkeeper for the Union Oil Company in Newark, NJ. She was a devoted Air Force wife for twenty-five years traveling with her husband throughout his career. She was also very active in her church and community.

From 1966-2000 she was active at the Holy Spirit Catholic Church in Forestville in the choir, eventually becoming director and also on the Liturgy Committee where she served as the head of that committee. She also served as a volunteer in the nurses office at LaReine High School in Suitland, MD and as a volunteer at Mt. Calvary Grade School in Forestville. She was also the former First Lady - Maryland State Council-Knights Of Columbus.

She enjoyed traveling, humming around the house, dancing, traveling to Octoberfest celebrations, cruising, reading to her grandchildren and spending time with her family. She had a vibrant smile which she wore all the time.

Along with her husband she is survived by seven children; Jack(Laura), Terry, Ann(Zubair), Jim(Irma), Margaret(Dan), Joe, and Julie, eighteen grandchildren, twenty-three great-grandchildren, a sister; Kathi Mohrhauser, and a brother; Joe Felber, sister-in-laws Peggy Felber, Trudy Kohaut, and Betty Albright, and a brother-in-law Bob Greenwald, as well as dozens of nieces and nephews, and a few dear cousins.

She was preceded in death by her younger brother Robert, a granddaughter Daniah, and a son-in-law Fred DiZebba. In lieu of flowers contributions in her name may be made to the Alzheimer's Association, 1850 York Road, Ste. D, Timonium, MD 21093. Arrangements by Lee Funeral Home.