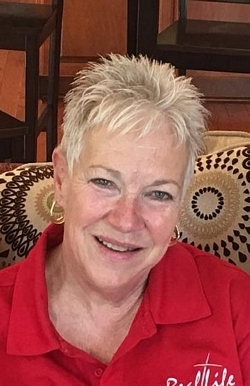 Betty L. Goodman, 72, of Newburg, MD passed away on Christmas Eve, December 24, 2018 at the Hospice House of Charles County in Waldorf, MD. Betty rejoins her beloved husband William "Dan" Goodman, who passed away 1 year ago after 40 years of marriage.

Betty was born in Washington, DC on October 19,1946 to the late Glen and Mabel Wagner, and was younger sister to the late Robert Wagner. She is survived by her daughters, Jennifer Burroughs (Ashley) and Tricia Ducker (Sean); stepson, Richard Goodman (Tammy); nine grandchildren; and three great-grandchildren, along with her beloved dog, Gizmo.

Betty married Dan in 1977, and they settled in Newburg in 1982. Betty worked for many years in the Circuit Court for Charles County, and together with Dan, they owned and operated "Dan's Store", a small family store in Newburg, MD for 15 years. Her favorite part of their time at Dan's Store was the many wonderful, life-long friends she made there. She enjoyed traveling in their RV, and spending time laughing with her family and friends.

Betty was a woman of incredibly powerful faith, and she was very active in her church, Real Life Wesleyan. She was a lover of all animals great and small, and any child was always welcome on her lap. Christmas was her very favorite time of the year, and her great joy was to watch children experience the joy of the season. Her kindness and compassion for others was extraordinary, and was the root of everything she was. Betty never knew a stranger, and her home was always an open and inviting place to everyone. No dirty dish was ever safe from Betty and her traveling dish gloves, and if you left her house hungry or thirsty, it was your own fault.

A Celebration of Life will be held at Real Life Wesleyan Church (27399 Old Village Rd., Mechanicsville, MD) on January 3, 2019 from 3:00PM to 8:00PM with a prayer service at 6:30PM. Please join us to celebrate Betty's life and legacy, and we ask that you please feel free to come up and share your happiest and funniest stories of Betty's life, as she would want it. In lieu of flowers, memorial donations may be made in Betty's memory to the Hospice House of Charles County (2505 Davis Rd., Waldorf, MD 20603). Arrangements by Arehart-Echols Funeral Home.