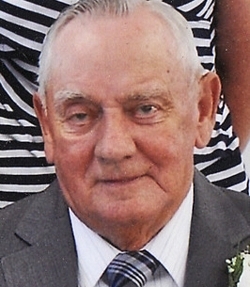 Francis Norris Shepherd "Shep", 87, of Leonardtown, MD formerly of Great Mills, MD passed away on December 23, 2018 at his home. Born on October 23, 1931 in Great Mills, MD he was the son of the late Agnes Kathleen Norris and Robert Earl Shepherd, Sr. Shep was the loving husband of Lucille E. Shepherd "Betty" whom he married on September 6, 1954 in St. Aloysius Catholic Church Leonardtown, MD.

He is survived by his son Francis M. Shepard (Rhonda-friend) of Leonardtown, MD. 3 grandchildren and 7 great-grandchildren. Siblings: Ada Marie Joy and BettyAnn Kellam. He is preceded in death by his siblings; Robert Earl Shepherd, Jr., Thomas Eugene Shepherd and Louis T. Shepherd.

Shep attended Little Flower School and was a lifelong resident of St. Mary's County MD. He served in the National Guard for 10 years and was employed as an Assistant General Manager for SMECO in Leonardtown, MD for 40 years retiring June 16, 1992. Shep was a member of the 3rd District Opt. Club, Maryland State Fair Board, St. Mary's City Farm Bureau and St. Mary's County Fair Board as Director for 40+ years.

The family will receive friends on Wednesday, January 2, 2019 from 5:00 PM-8:00 PM with prayers recited at 7:00 PM in the Mattingley-Gardiner Funeral Home Leonardtown, MD. A Mass of Christian Burial will be celebrated on Thursday, January 3, 2019 in St. Aloysius Catholic Church Leonardtown, MD with Father David Beaubien officiating. Interment will follow in Charles Memorial Gardens Leonardtown, MD. Pallbearers will be: Tommy Bowles, Billy Price, Mark Holland, Steve McGee, Corey Holland and Elmer Brubaker. Honorary Pallbearers: Mary Cox, Jim Lovelace, Boots Garner, Kevin Gardiner, JoAnn Wurmlinger, St. Mary's County Fair Board Members, Lee Dyson and Roy Dyson. Contributions may be made to Hospice of St. Mary's P.O. Box 625 Leonardtown MD 20650.