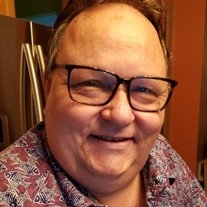 David Duane Riege, age 59, of La Plata, MD died on December 20, 2018 at the George Washington University Hospital in Washington, DC. David was born in Washington, DC on October 26, 1959. As a boy, he loved to play baseball and was an active member of the Boy Scouts. He moved to Waldorf from Cumberland, MD as a young adult and finally settled in La Plata with his family.

David was a confirmed member of the Grace Lutheran Church in La Plata and worked as an Elevator Mechanic with Quality Elevator for over 30 years. During his spare time, he loved reading and playing for the Metro Elevator softball team as a pitcher. David was a wonderful father and husband that found joy in music, especially classic rock from the 1970's.

David is the son of Delmer Riege and the late Janet Riege (Wheeler). He is survived by his wife, Melissa Riege (Hill); daughters, Bethany Riege and Rachel Riege; brother, Andrew Riege; and sister, Kelly Gjovik and her husband John.

A viewing for David will be held on Friday, December 28, 2018 from 9:30AM until the time of his service at 12PM at Raymond Funeral Chapel in La Plata, MD. His interment will follow at Trinity Memorial Gardens in Waldorf, MD.