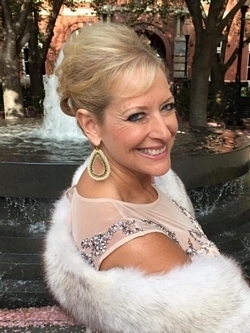 Tessa Echols Henderson, of Port Tobacco, MD passed away on Sunday, December 23, 2018, surrounded by family at home following a courageous battle with cancer. Born April 13, 1964 in Washington, D.C., she was the fourth daughter of the late Carol Ann and Garyton Colvard Echols, Jr.

She lived in Port Tobacco, Maryland with her husband Adam Byrd Henderson, Jr. and spent the winter in Stuart, Florida. She was extremely active in the community and had many charities that she supported. She has volunteered and served many organizations including The Charles County Chamber of Commerce as past Secretary, The Charles County Garden Club, Hospice of Charles County, Catholic Charities Angel Watch Shelter, a past Board Member of the Southern Maryland Women's League, College of Southern Maryland, and Civista Hospital. She served as Co-Chair for the Charles County 350th Celebration Gala.

For over 20 years she was the Director of Marketing for Henderson Holdings, LLC. She turned her passion for yoga into a business called ZenRocks and had many loyal students at several gyms and studios. She was an award winning Floral Designer and managed Country Florist, Waldorf, Md. for several years. Early on she worked as an Executive secretary in Washington, DC. She also founded a company called "Design by Tes." She was an avid reader, boater, scuba diver, world traveler, and consummate hostess.

She is survived by her husband Adam "Duke" Henderson, three sisters, Mary C. Lindamood (Danny) of Charlotte Hall, Md., Nancy Lee Turnbeaugh (Kevin) of Saluda, Va.,Barbara E. Moffatt-Gill (Fred) of Stuart, Fl. and two brothers, Garyton Colvard Echols III (Anita) of Lubbock, Tx. and David C. Echols (Julie) of La Plata, Md. and an Uncle Hilton C. Smith Jr. (Catherine) of Charleston, SC; an Aunt Nancy Smith of Mexico; two brother-in-laws George G. Henderson (Donna), and Nick Henderson; a sister-in-law Joyce H. Sams; 12 nieces and nephews, Danny Lindamood, Jr. (Corinne) Katelin Via (Josh), Patrick Clark, Carol Murrah, James Murrah, Drake Moffatt, Avery Echols, Gary Echols IV, Christian Echols, Emily Echols, Madison Echols, George G. Henderson; and 4 great nieces and nephews Brinley and Olivia Lindamood, Reagan Via, and Griffin Henderson.

The family will receive friends Friday, December 28th, from 1 to 3 p.m. and 6 to 8 p.m. at Arehart-Echols Funeral Home in La Plata, Md. Mass of Christian burial will be celebrated Saturday, December 29th, at 10 a.m. at St. Ignatius Catholic Church, Chapel Point, Md. Interment to follow at St. Ignatius Cemetery. Memorial donations may be made to Hospice of Charles County, 2505 Davis Road, Waldorf, Md. 20603; or Humane Society of Charles County, 71 Industrial Park Dr., Waldorf, Md. 20602. Pallbearers: Danny Lindamood, Jr. Patrick Clark, James Murrah, Drake Moffatt, Gary Echols IV, Christian Echols, George G. Henderson.