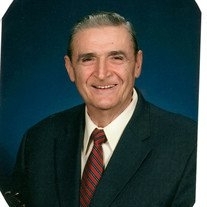 Victor Zangla, age 88, of La Plata, Maryland died December 20, 2018 at the Charles County Hospice House in Waldorf, Maryland. Victor was the eldest son of Italian immigrants, Maria and Nunziato Zangla. His family lived in Southwest Washington, DC where he enjoyed a community that would become lifetime friends. His fondest childhood memories including riding his bike through the historic sites of Washington, DC, playing basketball for the SW Metropolitan Police Boys and Girls Club, learning to bake at Clement's Pastry Shop, being a devoted member of St. Dominic's Catholic Church and school, and attending St. John's College High School.

He served was a Veteran of the United States Air Force 113th Aircraft Control Squadron and a member of Sacred Heart Catholic Church in La Plata, Maryland. He was also a member of Southwest Alumni Association, American Legion, Sons of Italy, Maryland Association of Certified Public Accountants, George Washington University Alumni Association, and Missionaries of Charity. Some of his noteworthy achievements were Assistant Director at United States General Accounting Office, Investigator on the Iran-Contra Committee, Assistant Audit Manager at PEPCO, and the DC Air National Guard.

He worked his way up from file clerk at PEPCO to the Director of National Security and International Affairs Division of the General Accounting Office. Victor pieced his education together while working full time and raising a family. He eventually earned a Certificate of Accounting at Benjamin Franklin University, Certified Public Accountant, and Master of Business Administration degree from George Washington University.

Victor's modest upbringing was the catalyst of many blessings. He could fix a car, add an addition to the home, spot a good real estate investment, and decorate a wedding cake to the specific order of one of his four daughters. He enjoyed many things including fishing, crabbing, painting with Bob Ross, touring museums, reading, jitterbug dancing, volunteering at the Sisters in Charity in DC, locksmithing, serving at the Missionaries of Charity, wood working/carving/whittling, tending to his fig tree, and so much more! Although he will be greatly missed, his life lessons about faith, family, and education will continue to guide us.

In addition to his parents, he is also predeceased by his first wife of 34 years, Connie; his sisters, Nancy and Rose; and his step-grandson, John Freeman. He is survived by his loving wife of 17 years, Irene Armstrong-Zangla; his children, Maria Martin, Donna Bradley, Susan Kauffman, Diana Hendricks, and Victor Zangla and their spouses; his step-children, Gordon Armstrong, Catherine Freeman, Janet Abbott, Joanne Moran, Terry Armstrong and their spouses; his brothers, Angelo Zangla and Rosario (Saddy) Zangla; 24 grandchildren and 10 step-grandchildren; five great-grandchildren and six step-great grandchildren.

Friends received on Thursday, December 27, 2018 from 9:00 AM until time of Mass of Christian Burial at 10:00 AM at Sacred Heart Catholic Church, 201 St. Mary's Avenue, La Plata, Maryland 20646. Interment at 2:00 PM at Resurrection Cemetery, 8000 Woodyard Road, Clinton, Maryland 20735. Memorial contributions in Victor's name may be sent to Missionaries of Charity, 3310 Wheeler Road SE, Washington, DC 20032.