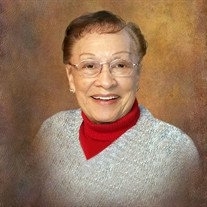 Constance F. Macogay of Waldorf, Maryland died on Wednesday, December 19, 2018 at the Genesis Health Care Center in Waldorf, surrounded by her family. She was 85 years old. Born on June 11, 1933 in Philadelphia, Pennsylvania, she was the daughter of the late Cenon Gonzaga and Lillian Mae Treyers. Constance was a homemaker and mom, who loved playing bingo, cards, games, slot machines, cooking, baking, dancing and spending time with her children, grandchildren and great grandchildren.

In addition to her parents, Constance was preceded in death by her husband of 67 years, Eugene G. Macogay; four siblings. She is survived by her children Deborah (Wayne) Leer, Michele (Carl) Soiné, Eugene Macogay, Kim (John) Kern, Craig (Amy) Macogay; grandchildren Tina (Andy) Thompson, Stephanie (Ken) Lane, Bruce Sheffler, Eugene (Melissa) Macogay, Jeffrey Sheffler, Tony Soriano, Janelle (Bryan) Jones, Angelyn (Henry) Fernandez, Allyson Soiné, Alex Macogay, Ashleigh Kern, Casey (James) Macogay; great-grandchildren Brian Thompson, Derek Lane, Brendan Thompson, Danielle Lane, Gabrielle Macogay, Henry Fernandez, Hudson Fernandez, Aubrey Schallmo; three siblings.

Family and friends to gather on Friday, December 28, 2018 from 2PM to 4PM at Raymond Funeral Service, P.A. 5635 Washington Avenue La Plata, MD. 20646. Interment will be private. In lieu of flowers, memorial contributions may be made to American Cancer Society, P. O. Box 22478, Oklahoma City, Oklahoma 73123.