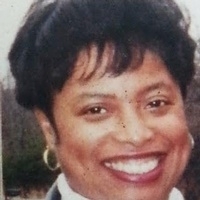 Mrs. Saundra Mary White entered into eternal life to be with Our Lord and Savior Jesus Christ peacefully on December 14, 2018 at 7:43 am at Hospice of Charles County in Waldorf, MD.

Saundra Mary White was born on July 14, 1950 to the late Emily Elizabeth Hayes and Homer Hayes, Jr. She was the oldest of 4 children. Her family attended Israel Baptist Church in Washington, DC where with her sister Irene, she attended Sunday School and Girl Scouts. She loved her sisters and brother and was a dedicated big sister to her family. She would enjoy road trips with the family and enjoyed spending time with her dad as he fixed cars. She was educated in the public schools of Washington, DC and graduated high school in 1968 from Eastern Senior High School. After graduation, Saundra began her career in the federal government. She always said, she received her diploma on a Friday and began working on a Monday! She worked in the same agency as her mom, General Service Administration (GSA). Saundra received her Associates Degree in Accounting from The Washington Technical Institute (also known as the University of the District of Columbia, UDC) in 1977.

She met her husband Nelson White during high school in chemistry class. She would help him with his class work. They were married in 1973 at Emmanuel Baptist Church in Washington, DC. They had two beautiful daughters (Yolanda and Nicole) and enjoyed their lives together. She worked very hard for her family, not only working for GSA, but also through part-time jobs at Geico, The Marriott Hotel, and even delivering newspapers with her husband Nelson and daughters in tow throughout the city of Washington, DC in the wee hours of the morning.

In 1985, the White family moved to Newburg, MD from Washington, DC and enjoyed the nature and quiet sounds of Newburg, MD. Although it was a distance from Washington, DC, she would love to drive the back roads to work and home. The distance was never an issue for Saundra! She would enjoy finding new ways to get to work from Charles County, MD to Crystal City, VA. She drove the distance every day and would take the Keller Commuter Bus or even the Virginia Railway Express (VRE) to get to work at times. Even when her car was having trouble, she would find a way to get to where she would need to go.

The family joined Shiloh Community United Methodist Church of Newburg, MD when they moved to the area and became active members of the community for years to come. Saundra White enjoyed serving at Shiloh Community United Methodist Church. She served on many ministries and organizations throughout her years at the church. She taught Sunday School, served on the Finance Committee, Stewardship Committee, United Methodist Women, Usher Board, Warriors of Wisdom, and attended Bible Study. She was an active Lay Servant and shared the Word of God often to the congregation. At times, she was nervous to speak, but once she prayed and ask God for guidance, she was able and willing to share the Word of God to all. She loved to serve alongside her husband Nelson and encouraged others even her daughters to do so.

In 2010, Saundra White retired from the General Service Administration (GSA) Agency. She had worked at the agency for over 42 years. After retiring, she volunteered for Meals on Wheels and actively served at Shiloh Community United Methodist Church. She enjoyed her retirement. She traveled with her family and enjoyed her many road trips. One year she made it her goal to drive non-stop from Newburg, MD to Orlando, FL. Once she pulled into the parking lot of the hotel, she cried out "I Did It!"

Saundra was loved by many who had the chance to meet her and spend time with her. She had a quiet spirit and was very adventurous! Her motto at times was to just get up and go even if no one would go with you! She enjoyed driving even driving to work in rush hour traffic. Would love to give directions for any location from Maryland to New York! She enjoyed helping others and would even give rides to people who had car trouble along the highway even when she was late for work herself. She loved her family and enjoyed spending time with them. From going to family gatherings to small road trips to the Eastern Shore. She loved her husband and in August of 2018, Nelson and Saundra celebrated 45 years of marriage.

Saundra is survived by her husband Nelson White, daughters Yolanda White and Nicole White, grandson Luke Allen White, sisters and brother Irene Johnson, Homer Hayes III, and Estelle Hayes Wiley, brother in-law Henry White and sister in-law Rose White, nieces and nephews Angela VanCleve (husband Joseph VanCleve), Ryan Wiley and Cayla Wiley, Harriet White, cousin Jackie Richardson, and a host of family and friends who will miss her dearly. Arrangements by Thornton Funeral Home.